Press Release : GL Announces Fax Test Solutions for IP Networks with T.38
Gaithersburg, Maryland, USA - October 05, 2015 - GL Communications Inc., announced today its latest Fax Test Solutions for IP Networks with T.38.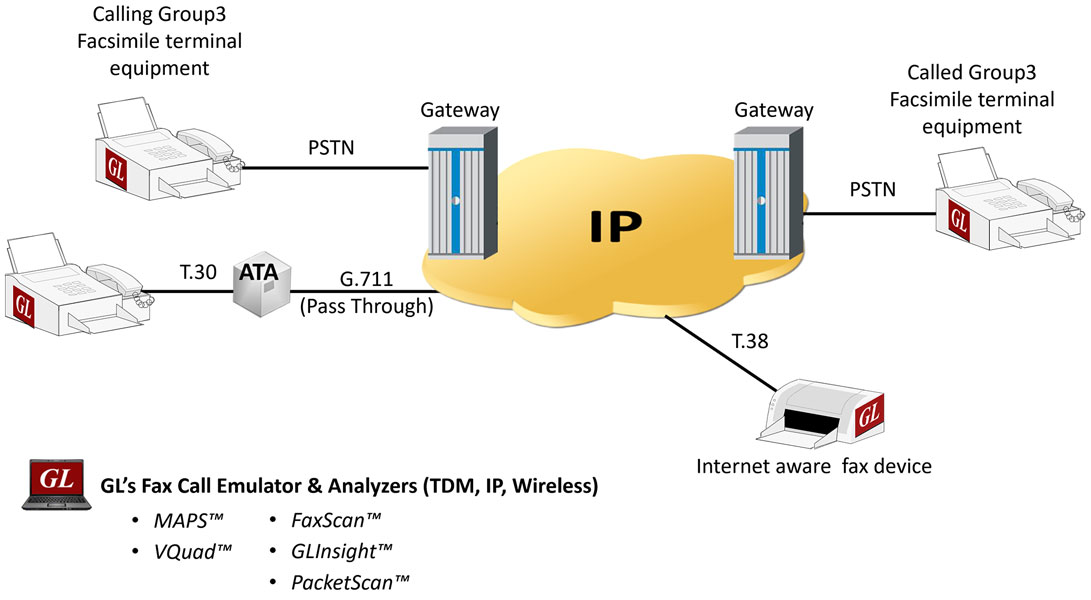 Speaking to the media, Mr.Karthik Ramalingam, a Senior Manager of product development of the company said, 'With many carriers switching from traditional TDM to IP networks, new methods were formulated to address the ways and means of transporting FAX over IP (FoIP) networks. One of the methods, G.711 fax pass-through mode, works similarly to a PSTN-based fax call with originating FAX machine converting the T.30 fax call to a PCM audio stream using G.711 codec (PCMU and PCMA), and gateway encapsulating the fax data with Real-time Transport Protocol (RTP) headers, before transmitting over IP networks. Basically, G.711 codec is used for transmitting and receiving voice over IP using pulse-code modulation (PCM). This standard does not distinguish between a G.711 voice call and a fax call, and it carries the fax message over the voice call."
He explained, "A robust approach was offered using T.38 Fax Relay Protocol for transmission of fax over IP, which offered redundancy, re-transmission, and efficiency.
A T.38 FoIP call is very similar to a normal VoIP (voice) call where a session starts with audio transmission / reception, then switches over to T.38 mode upon fax tone detection, after the completion of which it either falls-back to audio or the session terminates. It is recommended to use T.38 method in FAX calls as opposed to normal voice codecs because voice codecs are lossy and are therefore unreliable for data transition. The T.38/V.17 configuration operates at the maximum 14.4 kbps speed, whereas the T.38/V.34 operates at the maximum 33.6 kbps speed."
Mr. Ramalingam further added, "GL offers a variety of test tools to perform FAX over IP (FoIP) simulation and monitoring. Recently added is the ability to perform Fax Simulation using T.38 Fax Relay protocol to our MAPS™ Platform product MAPS™ SIP.
GL's MAPS™ SIP is a useful tool for simulation of T.38 fax call. It uses SIP signaling to establish the session, and it sticks to standards like ITU-T T.30, ITU-T T.38, ITU-T T.4, ITU-T V.8, ITU-T T.6 during fax call. One could configure MAPS™ to perform different types of action like transmit file, digits, tones or Talk in audio mode before switching over to T.38 mode.
MAPS™ SIP generates Re-Invite to switch from audio mode to image (FAX) mode. Implementation uses UDPTL to carry T.38 frames. While the call in progress, the MAPS™ also provides events related to the progress of the call and after completion of the call it provide call quality statistics."
---
Important Features
Support for V.34 operation mode
Support for Transmission/reception of multi-page tiff files
Support for ECM/Non ECM modes
Support for various transmission/reception rates( 2400 bps to 33600 bps )
Support for Rate Management 1 (local tcf) or Rate Management 2 ( transferred tcf )
Support for different error correction strategies like FEC or Redundancy for error recovery
Support for various page sizes A4, A3, B4, letter, legal
Support for various page resolutions 204x98, 204x196,204x391, 408x391, 200x200, 300x300, 400x400 during transmission or reception
Provides fax call quality parameters like Received Page Count, Received Page Error Count, Received Byte Count, Received Line Count, Received Bad Line Count, Received Bad Pkt Count, Transmitted Page Count, Transmitted Byte Count, Transmitted Line Count
Provides complete Fax call status

Back to Press Releases Index Page