Press Release : FAX Analysis over IP, TDM, & PSTN Networks
Gaithersburg, Maryland, USA – February 21, 2014- GL Communications Inc announced today its enhanced software for FAX Analysis over IP, TDM, and PSTN networks referred to as FaxScan™ application.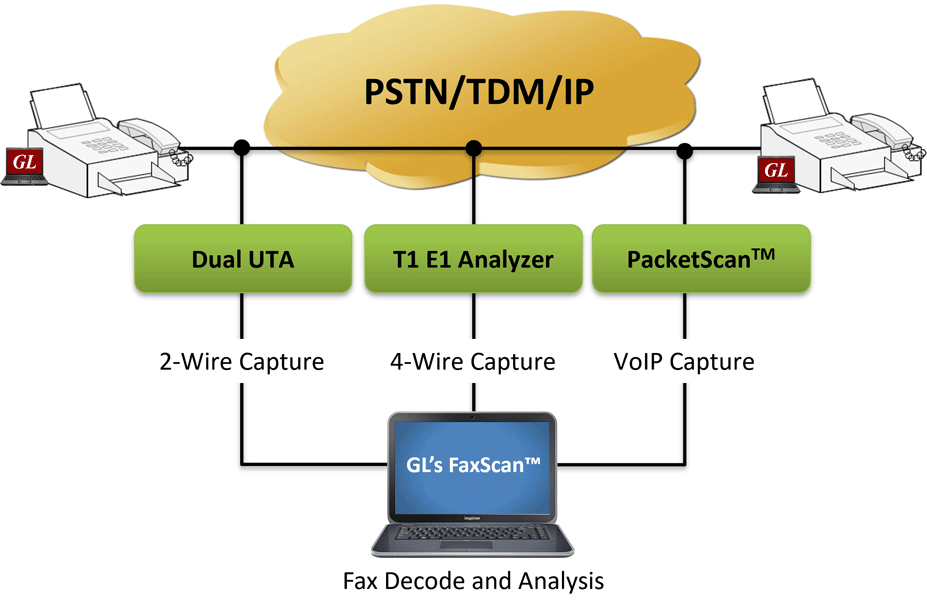 Speaking to reporters, Mr. Robert Bichefsky, Senior Manager Product Development of the company said, "In today's rapidly transforming telecom technology, Fax still holds relevance and plays a critical role for most of the business establishments and need for monitoring fax transactions is of paramount importance and monitoring is done by recording the analog or IP traffic using suitable call-capture applications. These files need to be decoded to investigate issues with protocol messages and Fax image quality.
FaxScan™ application is used to process 2-Wire and 4-Wire voice band capture files as well as Win PCAP captures to provide analysis of the T.38 packets, T.30 frames, decode a Fax TIF image, and general call-flow indicators for detail analysis. It is a valuable T.30 and T.38 debug and test tool, aiding significantly in system development. Fax sessions can contain standard G3 or V.34-based sessions."
He added, "FaxScan™ has the capability to process up to V.34 T.30 recordings in 2-wire, 4-wire. Different encoding formats like µ-law, A-law, 16 bit, and 13 bit PCM captures are supported (requires VBA038 License) and also it can process V.34 T.38 and SIP/RTP PCAP captures (requires PKV104 License) Win PCAP captures can be processed from T.38 packets alone or as part of a capture file with multiple sip calls.
Mr. Bichefsky further added, "FaxScan™ can be operated as a stand-alone from a Batch file or Windows® Command Line, or as a integrated module within the GL Voice Band Analyzer application to produce decoded fax image TIFF files and call logs. It supports 3 modes of operation depending on the type of input file: PCM, SIP, and T.38.
FaxScan™ for PCM outputs are: Fax Call Flow (contains T.30 Analysis) and Fax Image in TIFF format."

Back to Press Releases Index Page