Press Release : GL Enhances Drive Testing Solutions
Gaithersburg, Maryland, USA – September 11, 2015 -GL Communications Inc. announced today its Enhanced Drive Testing features in Wireless Quality Testing Product Suite.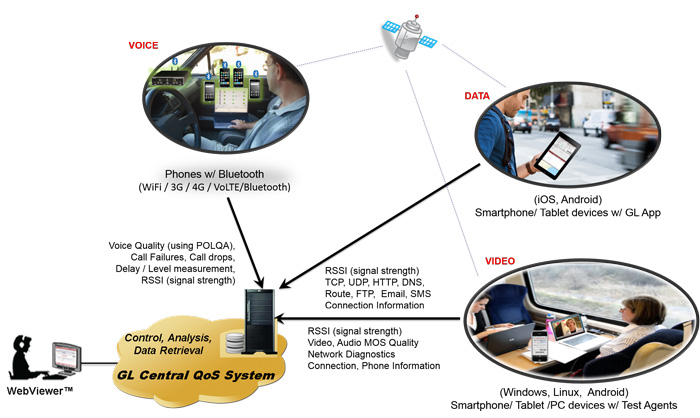 Speaking to the press, Mr. Robert Bichefsky, a Senior Manager for product development of the company said, "GL's Wireless Drive-Test solution includes all the necessary functionalities within portable equipment for a true mobile test. The mobile device under test can be in your pocket, in your car, in a train, or virtually anywhere while tests are automatically executed in an automated fashion. The automated tests include Voice Quality, Video Quality and Data Quality.
The WebViewer™, a web-based client application, accesses the centralized database for results. It also includes support for call control of variety of mobile device networks – from 2G to 4G LTE and beyond, including the capability of sending/recording voice, testing video conferencing, and testing a variety of data over the mobile devices, while analyzing their performance."
He explained, "For voice quality testing, VQuad™ connects to the mobile device via the Dual UTA using Bluetooth. A single VQuad™, on a PC, along with Dual UTA can operate up to 4 wireless mobile phones (via (Bluetooth®, Wi-fi, 3G, 4G, LTE, PTT) simultaneously. The Dual UTA includes an optional GPS receiver for providing location which can be used to plot the results on Google Maps using the WebViewer™. The voice quality testing supports both NB and WB (VoLTE) testing.
For data testing, the mobile device can virtually anywhere while automated Data Testing is performed.
The mobile device will run the specified data test irrespective of whether the phone is on an active voice call or not. Automated Data Testing (NetTest) includes TCP, UDP, VoIP, Route, HTTP, FTP, DNS Email, and SMS.
Video Conference testing supports testing between any two devices (agents) including Android mobile devices, Windows and Linux PCs. Each test allows configuration of the test such as video rates and bandwidth. Using the GL app or the VQuad™ software, both manual and automated video conference testing can be performed between any two agents. The A/V QoS results are provided along with several analytic metrics."
Mr. Bichefsky further added, "Google Maps option within WebViewer™ plots various Results, VQuad™ Nodes, and Mobile Devices based on the GPS co-ordinates available. Results include VQT POLQA, Data Tests, Video Tests, Call Connect Events, Echo and Delay Measurements."
Important Features
Network-Independent Drive Testing solution (on any network, even those which have yet to be deployed)
Voice, Video and Data testing can be run simultaneously (if the network allows)
Device-Independent voice quality test solution (any phone which supports Bluetooth). GL Data solution runs on any Android or IOS device (or PC), while the GL Video solution runs on any Android or PC
Connect directly to end devices - Smartphones, Softphone, Phone Handset, or ATAs
Bluetooth® compatible for both Call Control as well as Audio Send/Record
Synchronized software for sending/recording of voice files
The Indoor Tracking System (ITS) in VQuad™ developed to test the VQT in remote and unreachable GPS signal locations
The ITS information (location, timestamp) saved in the VQT database per VQuad™ Measurement
Full-featured remote capability that permits loading configurations, starting/stopping tests, and retrieving test results
Obtain network signal strength levels from wireless phone

Back to Press Releases Index Page