Press Release: GL Announces
Enhanced Voice Quality Testing Solutions
Gaithersburg, Maryland, USA – May 23, 2016 - GL Communications Inc., announced today enhanced Voice Quality Testing solutions that includes enhanced VQuad™, HD Voice Quality, WebViewer™ and DataImport software applications.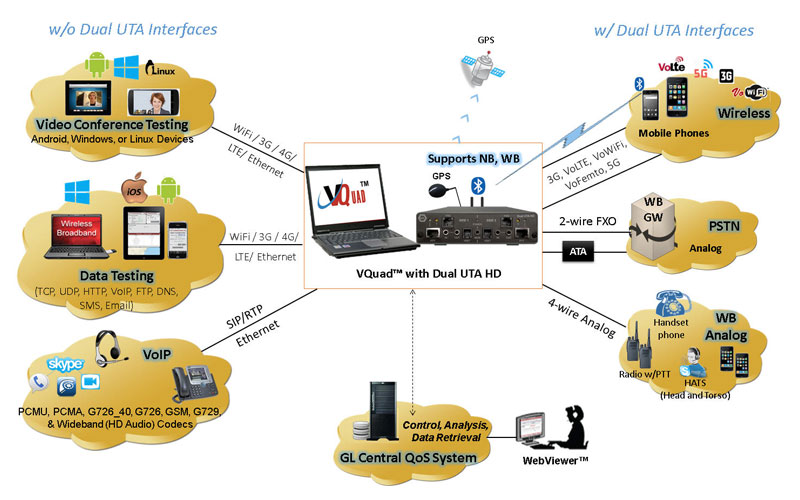 Speaking to press, Mr. Robert Bichefsky, a Senior Manager for Product Development of the company said, 'The enhanced VQuad™ system supports up to 6 Dual UTAs connected simultaneously, which translates to 12 fully independent telephony devices. In other words configure up to 12 independent devices which could include any Dual UTA interface, optional SIP User Agents, GL NetTest, and GL Video Conference tests. It also supports both the legacy Dual UTA (v.1) along with the next generation Dual UTA HD (v.2) connected to the same system simultaneously. The Dual UTA HD is more compact than the previous Dual UTA and includes HD (WB) audio on all interfaces. The Dual UTA HD also supports full internal loopback functionality for performing delay measurements as well as self-tests.
He added, "Enhanced VQuad™ includes an advanced method for performing One Way Delay (OWD) measurements using a Correlator algorithm. This new OWD method supports networks employing VAD and noise suppression whereas the previous method, using pulse tones, may not have gotten through the network. The Correlator method is extremely accurate and works on the older generation Dual UTA as well as the next generation.
Also added to the VQuad™ software is Audio Analysis. This function can be run within the VQuad™ Script to analyze any recorded voice file for both Power and Frequency. Outputs include RMS Power (including whether the audio file is empty – no voice path) and Frequency Response.
The VQuad™ script editor has been enhanced to support several new parameters associated with the conditional Wait Event and If Then commands. The Wait Event can pause the script to wait for a user-specified event such as Call Connected or Tone or DTMF or Energy.
Added to the VQuad™ solution is a new parameter, Call Type, which identifies type of Network for both the Originating and Terminating ends of the call. The enhanced VQuad™ script provides support for direct measurements of PESQ/POLQA from within the VQuad™ Script. This allows the VQuad™ Script to include conditional statements based on the result of the VQT score."
Mr. Bichefsky further explained, "The enhanced VQT software includes added support for POLQA including WB and SWB audio using the latest POLQA release from the ITU.
Enhanced WebViewer™ Console View provides a quick dashboard of all pertinent info associated with the ongoing tests. Added to this screen is the ability to set and view thresholds associated with the test results. The Console view also includes additional support within the individual graphics for zooming and accessing individual result points, or plotting results directly to Google Maps™.
Google Maps™ was enhanced to include an option to display user-specified region boundaries on the map (shade any area or region of Google Maps). In addition, a simple click of a button can filter all results such that only results within the regional boundaries will be displayed.
---
Important VQuad™ Enhancements:
Support for Dual UTA HD (next generation Dual UTA hardware) with HD (WB) support for all interfaces. Of course the legacy Dual UTA still supported while also allowing both the legacy and next generation Dual UTAs to run together on same system
Dual UTA HD, FXO interface, supports Call ID Call Waiting and user-specified parameters for Loop Current detection. Both 2-wire FXO and 4-wire Analog interfaces support internal Loopback (no delay or 500ms delay)
Support for up to 12 devices (six Dual UTA units) running independent and simultaneously
Improved OWD measurement using Correlator method
Audio Analysis with RMS Power and Frequency Response of any recorded audio file
VQT measurements directly within the VQuad™ Scripting
Change the Dual UTA device (and device name) from within the VQuad™ Script for added flexibility
Additional commands available within the VQuad™ CLI (remote capability) for controlling the VQuad™ and Dual UTA functionality
Support within the VQuad™ Script for generating GL NetTest (data testing) and GL Video Conference testing
Non-intrusively place the VQuad™ Probe all-in-one solution (VQuad™, Dual UTA HD and PC) at any site or in a vehicle (Drive Testing) for complete unattended testing when connected to the Central System. A portable 10" Touchscreen is also available to replace the mouse/keyboard/monitor - a great way to configure and access the VQuad™ Probe when in the field
VQuad™ SIP option includes support for all VoIP Codecs. A more comprehensive list of codecs and their details with respective voice quality provided at this link Codec Listings
---
WebViewer™/DataImport Enhancements:
Enhancements to Console View for more flexibility in viewing and accessing the results
WebViewer™ Google Maps enhanced to support a wide array of configuration parameters along with added support for setting up Regional Boundaries
All Event screens now include Threshold and Error buttons for easy filtering directly from the individual screens
Enhanced support for Email Alerts using the DataImport and events from the VQuad™ software
Overall enhanced UI for the WebViewer™ making navigation and viewing individual Event screens much more user-friendly

Back to Press Releases Index Page