Enhanced UMTS IuCS and IuH with Iu-UP Protocol Support
Gaithersburg, Maryland, USA - April 14, 2014 - GL Communications Inc., announced today the release of enhanced MAPS™ UMTS IuCS and IuH Interface Emulator with Iu-UP protocol layer of the Radio Network that is used to convey user data associated with Radio Access Bearers (RABs).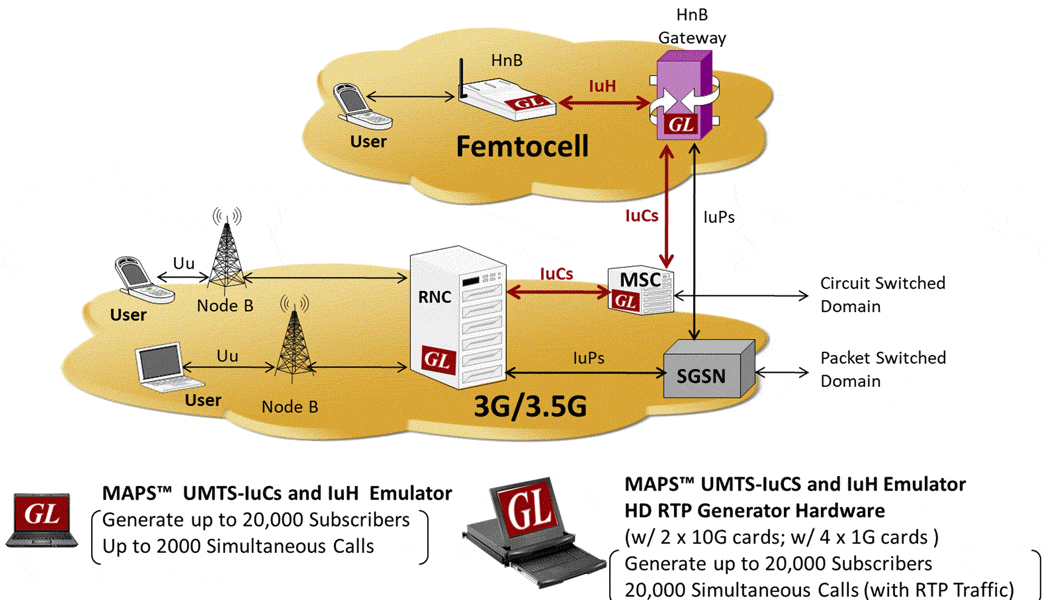 Speaking to reporters, Mr. Karthik Ramlingam, Senior Manager for Product Development of the company said, "MAPS™ UMTS IuCS can emulate the IuCS interface between the RNC (Radio Network Controller) and the MSC (Mobile Switching Center) nodes, and MAPS™ UMTS IuH interface can emulate IuH interface between the Femto Home Node B (HnB), and a Femto Home Node Gateway (HnB-GW) by generating RANAP and DTAP signaling messages over SCTP. Both emulators support all standard protocols required for the accurate UMTS interfaces emulation. As an enhancement, GL has added the Iu-UP protocol support to the existing UMTS IuCS with User Plane Protocol Stack."
He added, "The Iu-UP protocol layer of the Radio Network is used to convey user data associated with Radio Access Bearers (RABs). The Iu-UP protocol operates in two modes: Transparent Mode and Support Mode. The core network chooses the mode of operation according to the service/application requirements. In Transparent Mode, information is transferred without any processing, for example, the transfer of GTP-U PDUs across the Iu interface.
In Support Mode, the core network creates a task to transfer additional feature along with the ordinary user data. For example, the RTP traffic (AMR payload part) is carried over Iu-UP in Support Mode. The possible functions in Support Mode are Transfer of User Data, Initialization, Rate Control, Error handling, Time alignment, and Frame- quality classifications."
Mr. Ramalingam further added, "MAPS™ IuCS emulator has been enhanced to support Iu-UP (Iu User Plane Interface) with additional licensing to carry RTP traffic (AMR payload part) over Iu interface in support mode of operation for predefined SDU size. The RAB assignment procedure in RANAP will give the AMR codec rates to be used for this particular session. The conversational speech Radio Access Bearer (RAB) is tailored to Adaptive Multi Rate (AMR) speech and will also be used to carry emergency calls.
Additionally, MAPS™ IuCS also supports Auto and User-defined RTP traffic simulation over normal RTP sessions with additional RTP Core licensing. RTP traffic simulation supports the following actions: Transmitting Voice Files, Transmitting DTMF, MF Digits, and Single and Dual Tones, Recording Voice Files, Monitoring Single and Dual Tones, DTMF, and MF digits, Loopback, Talk using Microphone, Play to Speaker for almost all standard Codec."
---
Important Features
Simulates RNC, MSC, Home NodeB (HnB) and Home NodeB Gateway (HN GW) entities
Generates and process all Mobility Management, Session Management, RANAP and DTAP messages
User controlled access to RANAP, and DTAP messages
Ready scripts for Mobile Originating, Mobile Terminating, Location Updating procedures for quick testing
Supports RAB Assignment, Authentication, TMSI Reallocation, Encryption, and other procedures
Provides fault insertion, and erroneous call flows testing capability
Impairments can be applied to messages to simulate error conditions
Supports RTP traffic over Iu-UP protocol and also over normal RTP sessions (requires additional licenses)
Supported Codecs: AMR & AMR-WB
Supports customization of call flows and message templates using Script editor and Message editor
Supports scripted call generation and automated call reception
Provides protocol trace with full message decoding, and graphical ladder diagrams of call flow with time stamp
Script based & protocol independent software architecture
Provides call statistics and associated captured events and error events during call simulation.

Back to Press Releases Index Page