Press Release : GL Enhances T1 E1 Analyzer Products and Software v7.10.24
Gaithersburg, Maryland, USA – November 08, 2013 – GL Communications Inc. announced today the release of its enhanced T1 E1 Analyzer Software and Hardware and now it's Version 7.10.24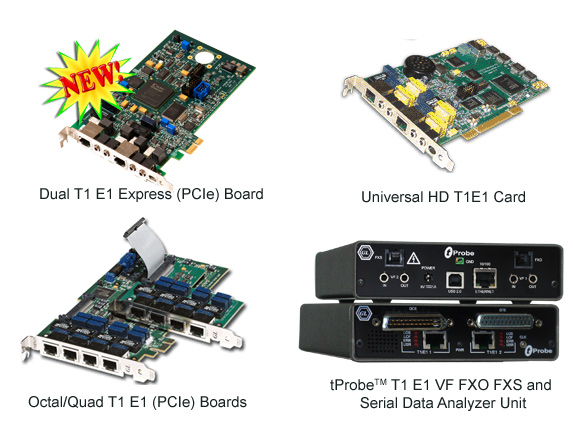 Speaking to the media, Mr. Vijay Kulkarni, CEO of the company said, "T1 E1 carriers are used extensively throughout the world for carrying large volumes of call containing both voice and data. Their popularity can be attributed to their high reliability, manageability and flexibility. Regardless of the form-factor you choose, GL's T1 E1 Analyzers provide a wide range of functionalities and testing capabilities."

He explained, "Our new application introduced MAPS™ INAP Emulator can emulate IN services available in TDM based SS7 network. INAP information flow is defined between functional entities such as Service Control Function (SCF) and Service Switching Function (SSF) distributed across network executing services.

Other new application SSM HDLC Analysis operates in accordance with G.704 standard and is used for capturing and analyzing the 4 bit long SSM HDLC frames received over E1 San bits in time slot. The port and time-slot selection dialog in E1 SSM HDLC analyzer allows user to specify ports and Sa bit values to indicate the signaling link to be monitored."

Mr. Kulkarni further added, "There are also comprehensive enhancements introduced to some of our existing applications and to name a few:T1 E1 Analyzer software, Datacom Analyzer, Windows Client Server, Protocol Analyzers and MAPS™ platform applications.
To monitor T1 E1 Lines for Alarms and Errors, the Analyzer main GUI's monitor and settings window has been added with functionalities such as Transmit Under Run, Receive Over Run status. Tx Underrun is indicative of multiframe(s) transfer problem from PC to the T1 E1 Analyzer.

Graph is enhanced to display all alarms and error types including Sync loss, Bipolar, Carrier loss, Blue alarm, Yellow alarm, AIS, BPV, CRC, Frame errors, and Tx/Rx over/under runss. This real-time graph data is automatically saved in the installation directory ("T1E1AlarmGraph" folder) every one hour or when the analyzer application is closed. The saved file can be opened later for offline analysis.

The PPP Analyzer in Datacom now supports decoding of IEC protocol stack. The status bar now displays extended error counters information including CRC, Frame Error, Reassembly, Dropped, Missing, and Duplicate errors. There are significant enhancements introduced to the functionality of ATM, UMTS, HDLC, PPP and MLPPP protocol analyzers.

Our MAPS™ Platform applications now support multiple node simulations and now user can emulate multiple BSCs or SGSNs using single MAPS instance. Init Script instructions are implemented for SCTP, MTP3 TCP, HDLC and UDP transports.

Array implementation is provided for MAPS™ applications to handle multiple connection support. Introduction of New ISDN Scripts now prevent the application from crashing when VF Insert is used during an active ISDN call. MAPS™ CAS has been enhanced to support Sweden P7 protocol."

Back to Press Releases Index Page