Press Release : GL Announces Enhanced RTP Testing and Simulation Tool
Gaithersburg, Maryland, USA – February 02, 2015 - GL Communications Inc., announced today its enhanced RTP Testing and Simulation Tool referred to as RTP ToolBox™ Software – A tool that helps test, simulate & monitor traffic carried by RTP & RTCP Packets.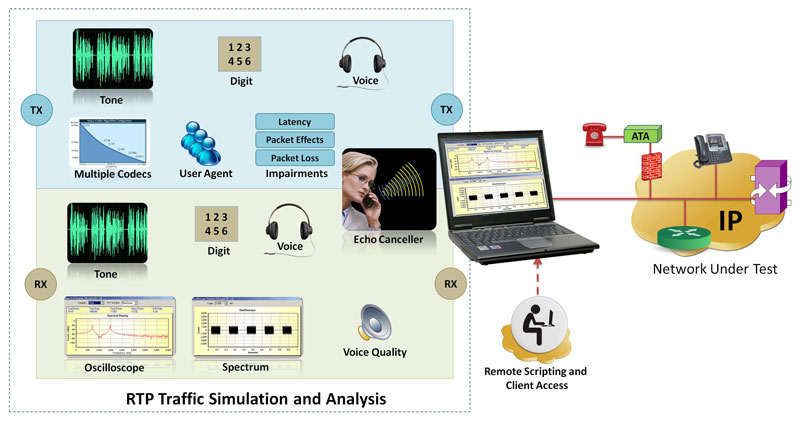 Speaking to the press, Mr. Jagdish Vadalia, a Senior Manager for product development of the company said, "As traffic intensity increases, network elements (including switches and transmission) can impart various impairments such as errors, excessive delay, congestion, blocking, loss, and degraded quality. Simulating traffic over IP networks can be valuable to characterize the impairment as a function of traffic intensity and traffic types (e.g. Voice, Fax, Data, and Video)."
He added, "RTP ToolBox™ is designed to generate and monitor RTP and RTCP packets independent of call-signaling protocols such as SIP, UMTS, GSM, SIP-I, H.323, MEGACO, or MGCP. The tool is perfect for testing and developing enhanced voice features like Voice Activity Detection (VAD), echo cancellation, a host of different codecs, digit detection, digit generation, Fax over IP, jitter implementation, and much more. It can be used to test end-user equipment such as IP phones, Analog Telephone Adapters (ATAs), and Gateways and Routers that support VoIP. It is rich in visual presentation of voice quality statistics that significantly simplifies debugging and analysis of VoIP calls."
Mr. Vadalia further explained "An RTP session can be created either 'Manually' or using 'Auto-Scan for Incoming Session' feature which displays incoming RTP streams to the system. It is possible to configure the properties such as codec, payload type, packetization time etc for sending/receiving RTP traffic with Tx/Rx profile option.
Users can manually introduce Impairments and transmit on the RTP sessions. Users can also create a script that defines the RTP behavior. Scripting option provides the users, a greater flexibility to combine traffic actions with simple programmed scripts.
RTP ToolBox™ application can be used to generate in-band digits and tones. The supported tones include single, dual, and multi-tones. Supported digits include DTMF, MF, and MFR2 forward and backward digits. The generation of RTP Events/ Digits per RFC-2833 & RFC-4733 are also available.
RTP ToolBox™ application allows users to capture tones and digits in the traffic. It also displays additional information about the captured signal such as type of the signal, timestamp, event, power, and accept/ reject frequencies. This is completely supported for both in-band Digits/Tones and RTP Digits/Events per RFC-2833 & RFC-4733.
RTP ToolBox™ allows users to configure and simulate a user agent (UA) for manual SIP call generation and reception using public URL and contact IP addresses. Multiple SIP calls can be placed and received through a single user agent.
The application's analysis capabilities include Oscilloscope and Spectrum Analysis and in oscilloscope the PCM codes (amplitude of the incoming signal) for any selected session are graphically displayed in real-time as a function of time. The spectrum analyzer displays data received in spectral domain (Spectral Amplitude vs. Frequency). A Fast Fourier Transform (FFT) is applied to successive sample sets of the incoming data and displayed in graphic form. The FFT length can adjust the frequency resolution I e from 32 points to 8192 points. Its Jitter Buffer feature allows user to set the buffer used for delayed packets that arrive at receiving end. Both static and dynamic jitter buffers are supported.
RTP ToolBox™ also provides Speech Quality Metrics (R Factor & MOS) andStatistics reports of RTP and RTCP packets transmitted on a session such as Number of Packets Sent, Packets Received, Dropped Packets, Out of Sequence Packets, Sender Reports, and Receiver Reports and are also displayed using RTP/RTCP statistics applications."
---
Applications
Voice Quality Testing in VoIP using PESQ, PAMS and PSQM
Codec Testing and Verification
Complete G.168 Compliance Testing
Media Gateway Testing using RTP ToolBox™
G.168 Compliance Test for EC within ATA
---
Some Important Features
User-defined impairments: latency, packet loss, out of sequence and duplicate packets can be introduced
Detailed statistical information of RTP and RTCP packets
Sending and recording of voice files with a synchronous TX/RX option
Talk and Play to Speaker options using PC sound card
Supports Client-Server functionality (requires additional license)-C++, & TCL clients
---
About GL Communications Inc.,
GL Communications is a global provider of telecom test and measurement solutions. GL's solutions are used to verify the quality and reliability of Wireless (4G LTE, 3G, 2G), SONET/SDH, Ethernet/IP, TDM, and PSTN networks.

Contact:
Shelley Sharma
Phone: 301-670-4784
E-mail: info@gl.com
Media Contact: pressrelease@gl.com

Back to Press Releases Index Page