Enhanced OC-3/STM-1 & OC-12/STM-4 Analysis/Emulation Platform
Gaithersburg, Maryland, USA - April 03, 2014 - GL Communications Inc., announced today the release of its enhanced OC-3/STM-1 and OC-12/STM-4 Analysis and Emulation Platform referred to as LightSpeed1000TM.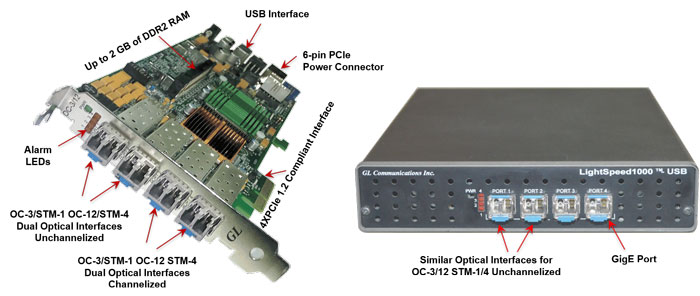 Speaking to reporters, Mr. Jagdish Vadalia, Senior Manager for Product Development of the company said, "Voice, data, and video traffic is exploding as smartphones, IP TV, video streaming, and "cloud" based services takeoff. Of course SONET and SDH continue to be used for conventional channelized traffic – carrying many TDM T1, E1, T3, and E3 pipes.
Our LightSpeed1000TM platform has been enhanced to support channelized traffic in a unique and elegant manner uncommon in the industry, and an additional optical port for SONET/SDH/GigE (4 optical ports).
GL's LightSpeed1000™ hardware platforms (PCIe Card and USB Pod) are capable of OC-3/12 and STM-1/4 wire-speed processing on quad optical ports for functions such as wire-speed recording and wire-speed playback of ATM, PoS, RAW, and channelized traffic.
LightSpeed1000™ comes with software for overall monitoring, BERT, emulation, and protocol analysis with a price tag that compares very favorably with similar test instruments at three times the price. Normally, the LightSpeed1000TM is used for protocol analysis of ATM, PoS, Raw unchannelized and unframed data. The hardware can be easily configured / programmed for delaying of ATM Cells or PPP packets."
He added, "Recently support for channelized structures has been added in OC-3/STM-1 for e.g. all 84 T1s or all 63 E1s can be identified and processed in transmit and receive modes.
The card's multiple connectivity using PCIe, Gigabit Ethernet (GigE), USB 2.0 and onboard DDR2 memory makes it suitable for many applications.
Multiple cards are possible in a PC for analysis of four or more directions simultaneously. USB 2.0 interface is used to connect with a Notebook PC for portability. GigE Ethernet ports for testing RAW, BER, RFC2544, RAW SONET/SDH, and Ethernet bridge applications. The hardware is firmware FPGA based making it easy to upgrade in the field for application versatility."
Mr.Vadalia further added, "A unique feature of the card is the capability to capture, transmit and process at wirespeed to/from applications and hard disk on all interfaces. An API Toolkit allows users to develop specialized applications."
---
Some of the Important Features
Wirespeed processing of ATM, PoS or RAW data for Tx and Rx for both ports (*PCIe card only).
Software selectable OC-3/OC-12, STM-1/STM-4 for Unchannelized ATM, PoS or Transparent Traffic, and Channelized T1, E1, T3, E3 traffic
Ability to capture/playback to/from disk at full rate in both directions for all ports. This permits detailed offline analysis that is not possible otherwise. Simultaneous synchronous capture is possible on all optical ports. The captured files can be played back to reproduce the traffic
Comprehensive transmit/receive testing capabilities; transmitting and verifying data with incrementing sequence numbers with each packet/cell
Industry proven Protocol Analyzer for ATM (AAL2, AAL5), UMTS, and PPP (IP and higher layer protocols), channelized protocols ISDN, SS7, CAS etc
Easy to use and flexible Bit Error Rate Test (BERT) application for ATM, POS, and RAW
Complex and flexible hardware based filtering options: sixteen 128 bit independently filters with bit masks, for both ports with AND/OR include/exclude conditions
Hardware based precise time stamping of cells / packets with 10 nsec resolution, 1 ppm accuracy
Single mode or multi-mode fiber SFP support

Back to Press Releases Index Page