GL Enhances T1 E1 Emulation / Analyzer
Products & Software - Ver 12.3.8
Gaithersburg, Maryland, USA – March 20, 2018 -GL Communications Inc., announced today the release of its latest T1 E1 Emulation/Analyzer products and software Ver 12.3.8 covering new application, enhancements to the existing applications and added features.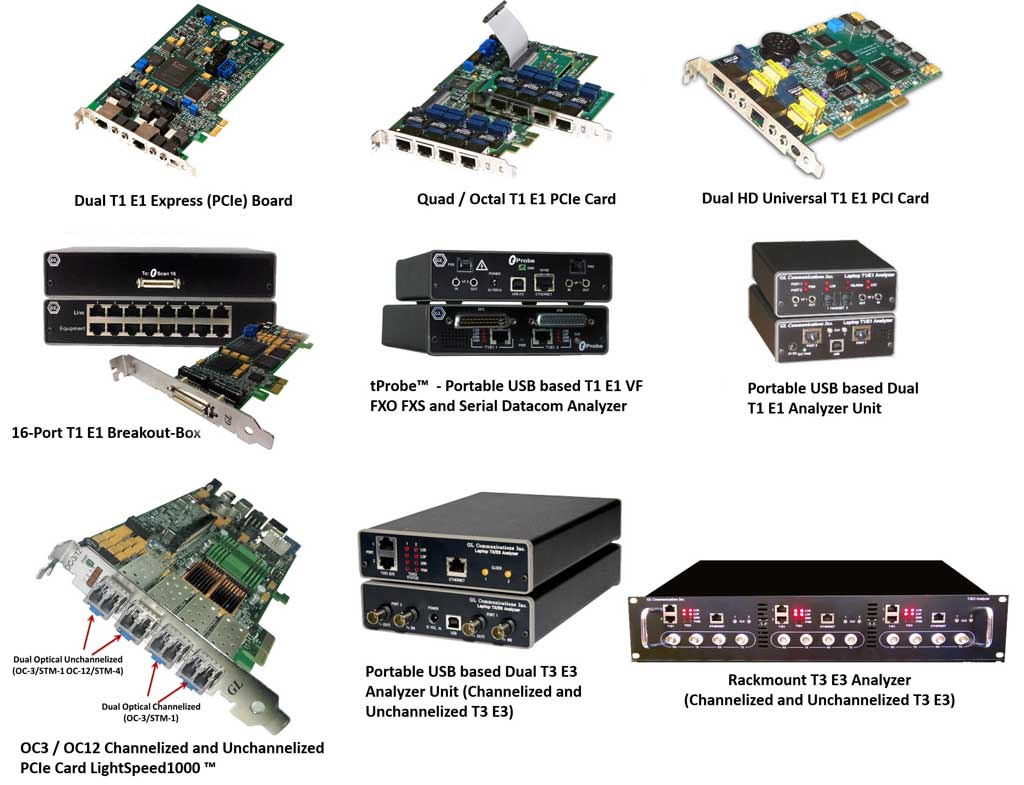 Speaking to the press, Mr. Vijay Kulkarni, the CEO of the company said, "The T1 E1 Analysis Suite of products provides comprehensive analysis and emulation capabilities for voiceband analysis and signaling protocol analysis. The new application added to the T1 E1 Analyzer product suite now include DDS Protocol Analyzer that provides user to non-intrusively monitor and analyze DDS frames using T1 Analyzer hardware. The captured data can be decoded and analyzed by the Analyzer. Currently the Analyzer supports 9.6 kbps data rates only.
He added, "There are significant enhancements introduced to existing T1 E1 applications and they include: A single wrapper installer is provided to install T1 E1 Analyzer 64-bit and 32-bit installations. T1 E1 Analyzers can now be invoked in User and Admin modes and are now supported on Windows® 10 64-bit and 32-bit Operating System.
Oscilloscope and Power Spectral Display applications have been migrated from Quinn-Curtis to Codejock toolkit. The enhanced BERT application now provides improved graph option i.e. when clicked on Y-axis plotted points; user can see the X and Y values in a read only edit box on top. Enhanced MCBERT application now supports Tx mode, error insertion, multi-threading and GUI optimisation.
The enhanced T1 E1 Development Tool Kit now includes support for 64-bit and examples folder that is updated with API information.
Active Speech Level/ Noise Level Monitoring application now provide viewing of the log file while the application is running. The log file is now updated after every write, so users can see real-time updates as they occur. tProbe™ T1 E1 and USB T1 E1 Analyzer now supported on USB 3.0 ports.
Persistent port numbering is provided now for all hardware card types. Before if system crashes or reboots or USB ports reconnected or cards move in slots - ports were reordered. Now ports are always ordered in the ascending order of corresponding board serial numbers."
Highlighting on the new enhancements introduced to the other applications, Mr. Kulkarni, further explained, "Soft T1E1 analyzers can now be invoked in User and Admin modes. The number of ports has been increased from 255 to 1024.
The WCS Fax Simulator has been enhanced for buffer boundary check of Fax TX and RX data buffer to avoid overflow. Option is now provided for user to enable/disable the tiff file recording and fax protocol related events during active call.
HDLC Tx Rx Test Application has been enhanced with Random Variable Frame Length Bucket option that allows users to generate random frames of varying length values. Frames with different frame length values can be defined by distributing the total frames probability to 100%. Enhancements are also introduced to Octal T1 E1 Analyzer for EMS.
A host of important features have been added to the Protocol Analyzers that include Protocol Analyzers' decode DLLs now corrected to support multi-threaded offline filters and joining of periodically saved files. This improves filtering performance. Display of license library version now provided in protocol analyzers.
TRAU Packet Data Analysis (PDA) now includes Active Calls Graph. The ISDN analyzer enhanced to support for ARINC746 decode."
He further added, "There are important enhancements introduced to Message Automation and Protocol Simulation (MAPS™) platform some of them include: MAPS™ CLI now supports Python Clients for ISDN, ISUP, and CAS protocols.
Server Health Status API included to check the status of the MAPSCLI Server and GL Server for ISDN, CAS and ISUP, LAPD and MTP3 Link Status (for ISDN and ISUP) respectively.
ISDN, CAS and ISUP example scripts updated to handle Server Health Status API. Java Clients now support Server Health Status API.
MAPS™ now includes a new Script Editor interface that provides a quick and user friendly way to find not only all commands, but also easily find defined variables, import/export files, message templates, labels, globally defined timers and to load and edit multiple scripts at a time."
---

Back to Press Releases Index Page