Press Release: GL Accomplishes Consolidated Reporting Project for Large Contact Call Center
Gaithersburg, Maryland, USA – February 28, 2017 - GL Communications Inc., announced today successful completion of Consolidated Reporting Project for a Maryland based Large Contact Call Center.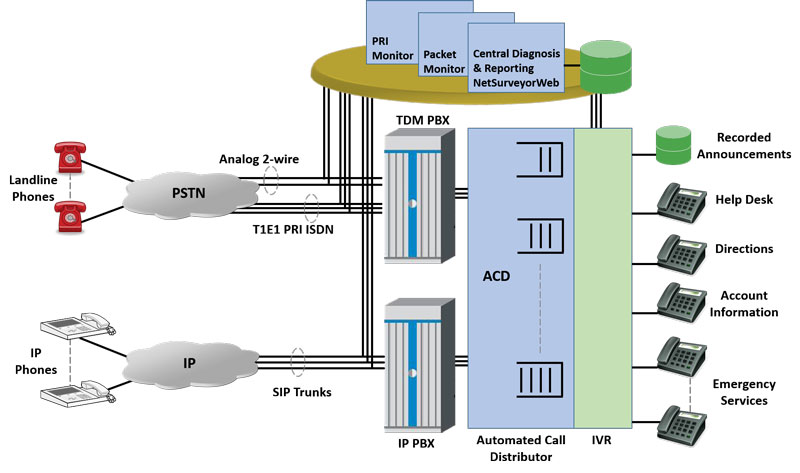 Speaking to the press, Mr. Matthew Yost, a Director of Marketing at GL Communications Inc., said, "Recently GL Communications Inc., consulting division successfully completed a 'Consolidated Reporting' project for a prominent Maryland-based Call Contact Center, wherein GL customized its T1 E1 PRI Monitoring system and NetSurveyorWeb™ with a commercial off-the-shelf (COTS) IVR System. Such a system can provide valuable information for optimizing resources such as trunk sizing, call distribution, IVR capacity, human attendants, and similar "expensive" resources.
He added, "The scope of the project included: Complete the system engineering needed to identify the statistical data required by the contact center stakeholders, Provide a flexible architecture so that additions and modifications to the data extracted can be performed without future code changes, Analyze and understand the existing reports that are generated by three sources: Unify's OpenScape Contact Center Server, the IVR Genesys Voice Platform Server, and GL's T1-PRI monitoring equipment, Develop the necessary mechanisms to collect and/or extract the statistical data required from each of the three sources mentioned above, Consolidate all statistical data and present it in a Consolidated Report produced and e-mailed to the stakeholders automatically on a nightly and monthly basis.
Mr. Yost further explained, "As mandated in the scope of the project, GL's consulting team provided expertise for evaluating call volumes, Interactive Voice Response (IVR) statistics as well as other contact center statistics. At the center of the solution were GL's T1 E1 ISDN PRI Trunk Monitoring System and Oracle based NetSurveyorWeb™.
GL also utilized its quick/easy Query software for interrogation of other Information Systems to present a Consolidated Report for contact call center key statistics. Information presented in this report was gathered from multiple locations, including GL's analysis probes monitoring multiple carrier T1-PRIs.
GL also acquired statistics from multiple application servers that provided important call, IVR and agent statistics. This project involved developing a software application that interfaced through an Application Protocol Interface (API) to a Genesys Voice Platform based IVR. Multiple project stakeholder meetings were necessary to understand the relevant statistics included in the Consolidated Report.
---
Other Telecom Testing Solutions by GL
With extensive telecom experience, GL offers a comprehensive suite of testing services to evaluate complex networks. Our engineers have extensive experience in all aspects of testing, including designing test plans, developing test procedures, conducting tests, and documenting test results. Our services are very cost efficient and include:
Testing of high speed telecom networks (T1, E1, T3, E3, OC-3, OC-12, STM-1, STM-4, etc)
Testing of VoIP, ATM and Central Office switches
RSSI field strength measurements and voice quality testing of public safety land mobile radio systems
Drive testing to verify commercial cellular service coverage
Assessment and audio survey of public address systems in transit/metro stations

Back to Press Releases Index Page