Press Release: Conformance Test Suite for ISDN Protocols
Gaithersburg, Maryland, USA - September 29, 2014 - GL Communications Inc., announced today its latest product MAPS™ ISDN (Layer3) and LAPD (Layer 2) Protocol Conformance Test Suite.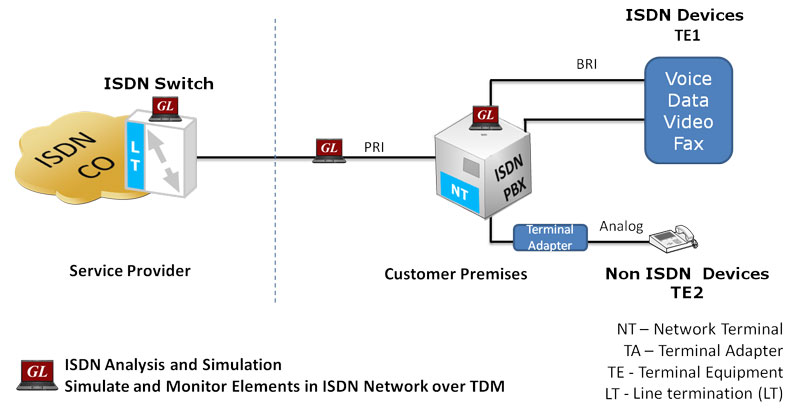 Speaking to reporters, Mr. Karthik Ramalingam, Senior Manager for Product Development of the company said, "The ISDN network is an integrated solution for providing basic telephony and data services, and additional supplementary telephony services. The user-to-network interface is provided in two flavours:
The first Basic interface structure - two B-channels and one 16 Kbit/s D-channel (2B+D) and the second Primary rate B-channel interface structure - 30 B-channels and one 64 Kbit/s D-channel, (30B+D).
From the point of view of the OSI architecture, an ISDN line has a stack of three protocols:Layer 1 - Physical Layer, Layer 2 - Data Link Layer (known as LAPD protocol), and Layer 3 - Network Layer (known as ISDN protocol). In order to provide reliable communication over the network, it is essential for the protocol implementation to be checked for conformity to its standard specifications."
He added, "GL's new MAPS™ ISDN and LAPD Conformance test suite helps service providers to check their ISDN network for conformity to its standard specifications - ITU-T Q.931 for ISDN and Q.921 for LAPD.
In addition, one can also use MAPS™ ISDN test tool to test ISDN signaling specification as per other standards such as the 5ESS, 4ESS, BELL, DMS-100, DMS-250, SR-4994, and QSIG ECMA standards. The MAPS™ ISDN and LAPD Conformance test suite can conform various ISDN and LAPD call states."
Mr.Ramalingam further added, "The ISDN Conformance test suite is used to perform testing using ISDN and LAPD protocol messages over T1 E1, offering a complete solution for testing, troubleshooting, and maintenance of devices and networks implementing PRI ISDN. It is useful to test ISDN products designed for U interface, including network terminations on subscriber's side and line termination in the carrier's local exchange.
The application supports powerful utilities like Message Editor, Scheduler, Load Generation, Statistics, and Reports to further help testing process.
---
Important Features
Supports Switch and Subscriber conformance tests
Example Scenarios in ISDN conformance Test Suite

Verification of Device behaviour for valid, invalid and inopportune events in a given state
Verification of Bearer capability negotiation
Verification of device behaviour for valid and invalid Information elements
Verification and Validation of protocol related timers.
Sequence Number Verification in Lap-D
Verification of Re-Transmission of messages in a given state.

ISDN & LAPD simulation over TDM (T1 E1)
Multiple T1 E1 line interfaces supported
Access to all ISDN Message Parameters such as Call Reference Value, Called Number, Calling Number, Release Cause, and more
Provides various release cause codes such as rejected, no user response, user busy, congested, and so on to troubleshoot the problems in ISDN
Send/receive traffic over established calls - PCM voice files, DTMF/MF digits, and tones
Ability to generate high volumes of ISDN traffic
Supports NFAS testing for T1 only
Provides fault insertion, and erroneous call flows testing capability
Bulk Call Simulation for Performance testing, Load testing, Functional testing, and Regression testing of network elements

Back to Press Releases Index Page