Press Release : GL Announces
Bulk Call Generators for TDM, VoIP & Wireless Networks
Gaithersburg, Maryland, USA – May 25, 2015 - GL Communications Inc., announced today its automated, scripted, multi-user, multi-protocol, and high capacity Bulk Call Generators.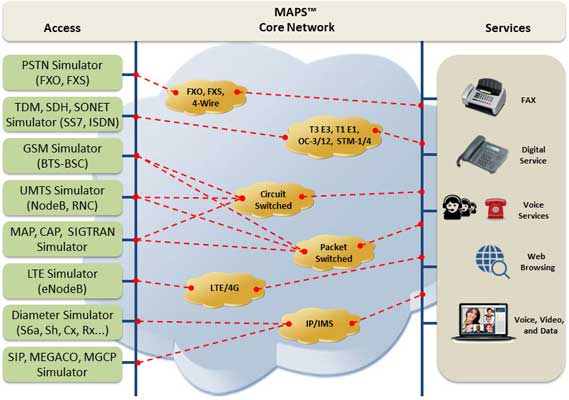 Speaking to the press, Mr. Vijay Kulkarni, CEO of the company said, "Message Automation and Protocol Simulation (MAPS™) platform is the basis for all signaling protocols and for traffic generation – whether voice, tones, digits, fax, data, or video. It covers legacy PSTN, next generation VoIP, and Wireless equipment, interfaces, and networks. Interfaces can be Analog, TDM, Ethernet 10/100/1000/10,000, or Wireless."
He added, "Testing network performance with high call volume is extremely important to Wireless Carriers, Internet Service Providers, and Equipment vendors so that to ensure quality of experience does not degrade with call intensity, volume, protocol, or traffic. Also heavy loads, and stress do not degrade stability or scalability of the network, during pre- and post-deployment. And advanced features and services are not compromised due to call intensity or call volume.
Stress and loading processes can help test and simulate worst case scenarios and provide confidence that the network will continue to function under such conditions.
Bulk Call Generators require an advanced network appliance which can generate and sustain high volume of calls with heavy traffic. If VoIP, then packets must be generated and output with high precision timing, zero packet loss and in the proper order."
Mr. Kulkarni further explained, "GL's MAPS™ is a protocol simulation and conformance test tool that supports a variety of protocols such as SIP, SIP I, MEGACO, MGCP, SS7, ISDN, GSM, MAP, CAS, LTE, UMTS, SS7 SIGTRAN, ISDN SIGTRAN, Diameter and others. Along with automation capability, the application gives users the unlimited ability to edit messages and control scenarios (message sequences).
MAPS™ provides easy to use bulk call generation feature that allows quick configurations to create different test scenarios with scripts and profiles. These tests can be run simultaneously or sequentially (queue up tasks in succession). In addition, the Load Generation feature further allows the bulk calls to be generated with different statistical distribution patterns such as Uniform, Ramp, Sawtooth, Fixed, Normal, Step, and Step-Sawtooth distribution.
Configure Stress/Load Testing parameters such as Call per second (CPS), Max Active Call, Minimum and Maximum Call Rates, Start Call Rates, and other parameters. Call duration also can be randomized using similar statistical distribution. Infinite number of calls can be generated by specifying '*' (which indicates infinite calls) for Total Calls parameter.
MAPS™ also includes extensive statistical and graphical features to help visually analyze the bulk call generation. Several important call parameters such as Total calls, Active calls, Completed calls, Passed/ Failed calls, and Calls/sec are logged in the statistics. Graphs for Call Success Ratio, and Call Status are plotted in real-time."
---
Applications:
Load PBX, Switch, Gateways/Routers
Test IVR, Voice Mail, VoIP phones
Generate/Accept tens & thousands of calls
Voice, Fax, Digits, Tones, Data, Video traffic generation
Automate Regression testing
Feature testing
Remote operation
Scripting: Python, TCL, CLI,estShell, HP ALM
Voice, Data Quality, Quality of Service

Back to Press Releases Index Page