Bearer Independent Call Control (BICC) Protocol Emulator
Gaithersburg, Maryland, USA – January 15, 2013- GL Communications Inc announced today its latest product MAPS™ BICC IP Emulator - Scripted Bearer Independent Call Control Protocol Emulation over IP.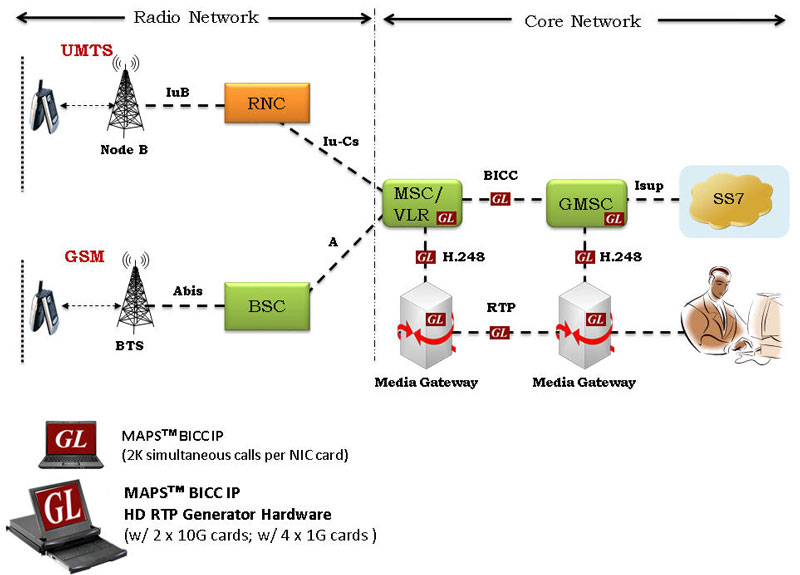 Speaking to reporters, Mr. Karthik Ramalingam, Manager Product Development of the company said, "The Bearer-Independent Call Control (BICC) is a signaling protocol based on ISUP that is used for supporting narrowband ISDN service over a broadband backbone network without interfering with interfaces to the existing network and end-to-end services. Specified by the ITU-T in recommendation Q.1901, BICC was designed to be compatible with existing networks and for that matter with any system that is capable of carrying voice messages."
He added, "MAPS™ BICC IP Emulator is used to emulate all the BICC interfaces over both TDM and IP. It is designed to specifically emulate BICC call control signaling as defined by ITU-T standards between Mobile Switching Center (MSC) and Gateway MSC (GMSC) server nodes.
MAPS™ BICC IP Emulator can run pre-defined test scenarios against test objects in a controlled & deterministic manner. In addition, it also supports error tracking, regression testing, conformance testing, load testing, and call generation. It supports powerful utilities like Message Editor, Script Editor, and Profile Editor which allow new scenarios to be created or existing scenarios to be modified using BICC IP call control messages and parameters."
Mr. Ramalingam further added, "GL's MAPS™ BICC IP Emulator currently supports the following procedures emulating MSC (VLR), and GMSC entities in the network- Successful Basic Call procedure with enBloc and Overlap operation, Setup procedures, Mid Call Procedures, Normal Call Release Procedures, Unsuccessful call Setup, Codec modification/mid-call Codec negotiation procedures."
---
Main Features
Emulate MSC and GMSC Nodes with BICC messages over IP
User-friendly GUI for configuring the BICC IP Layers
Supports BICC IP bearer control (call control or APM) messages
Access to all BICC Call Control Message Parameters OPC, DPC, calling number, called number, and more
Supports RTP traffic transmission and detection - digits, voice file, single /dual tones
User-friendly GUI for configuring the M3UA Layers
Load /Stress testing can be automated with different statistical distribution patterns for call generation
Manual and Bulk calling can be automated with the scheduler and pre-saved configuration files
Provides call reports with associated captured events and error events during call simulation
Option to send reports to database accessible via web interface
Supported on Windows® XP, Windows® 7 (32 bit and 64 bit) operating systems
---
Applications
Multi-protocol, Multi-interface Simulation
Provides fault insertion, and erroneous call flows testing capability
Ready scripts makes testing procedure simpler, less time consuming and hence time to market products.
Test response of network against protocol message modification, or corruption
Inter-operability testing of networks

Back to Press Releases Index Page