A Fast Approaching Deadline FCC's Narrowbanding Mandate
Welcome to the February 2010 issue of GL's consulting newsletter. In this issue, we focus on Federal Communications Commission's (FCC) narrowbanding mandate on Land Mobile Radio (LMR) systems operating in the 150-174 MHz and 421-512 MHz bands. The mandate doubles the number of available channels by cutting in half the size of existing channels. It will require government agencies, public safety agencies and any other entities operating within the affected bands to update their LMR systems to run on these new, narrower channels. Failure to do so could result in revocation of license. There is an overwhelming amount of narrowbanding technical information and legal jargon available on the Internet and elsewhere. The purpose of this newsletter is to provide a single, simple resource to help you understand how the mandate affects you, what you need to do about it and how GL Communications can help you do it.
I operate an LMR system in one of those bands. What do I need to know?
The first and the most important thing you should know is that January 1, 2013 is the deadline to comply. Agencies that do not comply by the deadline will lose their existing licenses. The official narrowbanding order was issued by the FCC on December 24, 2004, giving users eight years to comply. You have only three years left.
The second thing you need to know is the steps you should take to comply with the mandate. A better understanding of what the FCC is doing and why will also help you comply with the mandate. Therefore, let us start with an overview.
Narrowbanding: An overview
Government agencies, public safety agencies, businesses, schools, airports, hospitals, and numerous other sectors use LMR systems in 150-174 MHz VHF and 421-512MHz UHF bands. These systems have traditionally operated on 25 kHz channels simply because that was the best efficiency radio frequency technology could achieve. However, with modern technology, 12.5 kHz channels, and more recently 6.25 kHz channels, have become viable. With the narrowbanding mandate, the FCC is taking advantage of modern technology to create more channels within these bands (Figure 1). Presently the FCC is requiring all LMR systems be moved to 12.5 kHz channels before January 1, 2013 in order to keep operating. At some unspecified point in the future, the FCC will mandate that channel size will be halved again to 6.25 kHz.
There is an intermediate deadline which you also need to be aware of. After January 1, 2011 (Please see Figure 2):
The FCC will not accept applications for new Part 90 systems that use 25 kHz channels.


The FCC will not accept applications for expansion of existing 25 kHz systems.


The FCC will prohibit manufacture, importation and certification of dual mode (wideband and narrowband) equipment that does not provide a method to disable 25 kHz operation.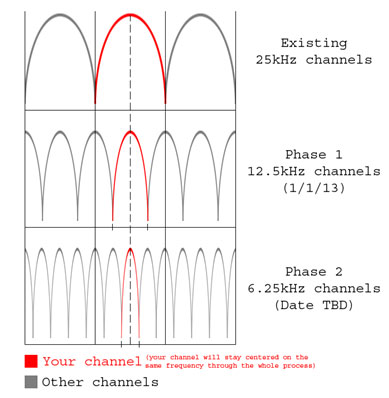 Figure 1. Narrowbanding Bandwidth Requirement


Figure 2. FCC Deadlines: Action Timeline
Only certain "paging-only" frequencies are excepted from the mandate. All agencies, small, big, rural, or city, must comply. Agencies that fail to comply will risk monetary fine and/or loss of license.
What do I need to do?
The following conerns need to be addressed:
Inventory: What equipment do you have? What needs to be reprogrammed or retuned, what needs to be replaced? Budget accordingly.


Coverage analysis: Analyze the coverage. Transition to narrowband may result in some loss of coverage.


Cut-over: Develop a plan to switch to narrowband operations while creating as little downtime as possible. Consider which of your neighbors you need to coordinate with for interoperability purposes. Budget accordingly.
You will also have to update your license with the FCC to reflect the changes. Remember to take into account future needs during the process. If you anticipate wanting new channels in the future you need to plan for this now.
How can GL Communications help me?
GL's in-house experts will assess your needs and recommend an action plan. We have been providing consulting services on Land Mobile Radio, wireless, and microwave systems to public safety agencies and commercial customers for 24 years. We have supported them in obtaining FCC licenses, site survey, system design, testing and cut-over. Examples of our services are:
FCC applications 601 and exhibits filings on-line at the FCC's Universal Licensing System


Engineering exhibits and waivers request for justification of spectrum usage


Narrowband implementation planning of T-band to meet the FCC mandate of 2013


Service area boundary contours development using Carey Model R-6406 and TV Model R-6602 propagation curves for 470-512 MHz. Other frequency bands for radio applications are 700 MHz, 800 MHz, 900, MHz, Cellular and PCS bands


FCC application parameters to APCO for frequency coordination at on-line site SpectrumWatch


FCC re-banding of 800 MHz NPSPAC to create a more efficient public safety spectrum
Just as important as the breadth of our experience in RF is the depth of our experience with this particular mandate. We are already working with other customers on their narrowbanding projects. We have developed our own in house design tools for analysis and contour studies. For a complete list of our services, please click here.

Back to Consulting Services Newsletters Page