Wireless Consulting Services
"Please contact us for any technical problem that may be occurring in your system, especially with regard to the frequency planning, interference, radio frequency coverage, or radio site interconnect."
Consulting Engineering Services
Project Management
Bid Proposals
Field Surveys
Site Location Design
Site Acquisition Support
Technical Specifications
Frequency Planning
System Design, Planning and Support
Propagation Analysis
Interference Study
Cost Estimates
Vendor Equipment Analysis
Field Testing and Trouble-shooting
Traffic Monitoring
Software Development
System Implementation
Hardware Installation
FAA / FCC licensing
Wireless Engineering
Cellular/PCS
Land Mobile Engineering
Microwave Network Design
Satellite Communications
Terrestrial Services
PCS Design and Relocation
Cellular System Design
SMR / ESMR System Design
Public Safety / Land Mobile Engineering
Microwave Inter-Connect
Leased T-1 Inter-Connect
Fiber-Optic System Design
Satellite Services
Software Testing
Test Plan and Control Plan Development
Advanced Technologies
TDMA E-TDMA
CDMA GSM
FHTACS
AMPS NAMPS
Wireless Design Tools
GL has developed, in house, an extensive array of advanced wireless and microwave interconnect engineering tools for the design of the wireless network; including site location, service area coverage prediction, frequency planning, interference protection and digital microwave interconnect engineering tools for the design of the wireless network; including site location, service area coverage prediction, frequency planning, and digital microwave interconnect. These tools are regularly refined and upgraded to stay current with the latest technologies and system design criteria.
Interference Study
- Field Testing and Evaluations
- Carrier-to-Interferer Ratio Plot
Radio Frequency (RF) Coverage
- Median Field Strength Predictions
- Most likely Server Plot
- Service Area Boundary Contours
- Uplink / Downlink Power Budgets
2D and 3D Terrain Maps
Frequency Planning and Coordination
Microwave Inter-Connect
- Point-to-Point Path Profile
- Path Availability Calculations
- Prior Coordination and Interference
- Analysis

Leased T-1 Network Design and Support
Fiber-Optic Network Design and Support
Satellite Engineering and Support
Wireless Services
Terrestrial Services
Carrier-to-Interferer Ratio Plot
Most likely Server Plot
3D RF Coverage (Median Field Strength Predictions)
3D Terrain Map
2D RF Coverage (Median Field Strength Predictions)
2D Terrain Map
Point-to-Point Microwave Path Profile
Service Area Boundary Contours
Satellite Services
Test Verification Software
Test Plan and Control Plan Development
FAA/FCC licensing
GL has developed and currently uses a completely automated system to comply with the Federal Communications Commissions (FCC), Federal Aviation Administration (FAA), and other regulatory agencies license applications, provided engineering support for petition to deny in case of conflicts between the licensees, and other notification requirements.
A few examples of filings made by GL are as follows:
FCC Form 600
FCC Form 415
FCC Form 489
FCC Form 312
FCC Form 402
FCC Form 430
FCC Form 494
FCC Form 401
FCC Form 155
FCC Form 574
FAA Form 7460-1
FAA Form 7460-2
NOAA
APCO
Carrier-To-Interferer Ratio Plot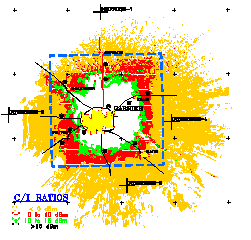 In the interference study and frequency planning it is very important to maintain a proper carrier-to-interferer (C/I) ratio for the radio frequency (RF) signal in order to run an interference free operation in your system. There is a need to maintain a greater value for C/I ratio for co-channel usage of frequencies as compared to a slightly less restricted value for C/I ratio for adjacent channel usage. The various bands of C/I ratio are plotted corresponding to different colors in order to facilitate the interference analysis.
Intra-system interference study for sites within the same wireless system and inter-system interference study for sites among the neighboring system is required from technical and legal point-of-view. It allows the users to enjoy interference free quality service within the system and near the system boundaries, and at the same time avoid any possible legal conflicts between the neighboring systems.
Most likely Server Plot
GL's Most likely Server Plot is a very powerful analysis tool used to solve wireless coverage problems. It will not only give you the overall system coverage, but also provide a complete picture for every single radio site in the system. You can exactly determine as to which site is being used by a mobile in completing a call at a given point and time.
2-D Most likely Server Plot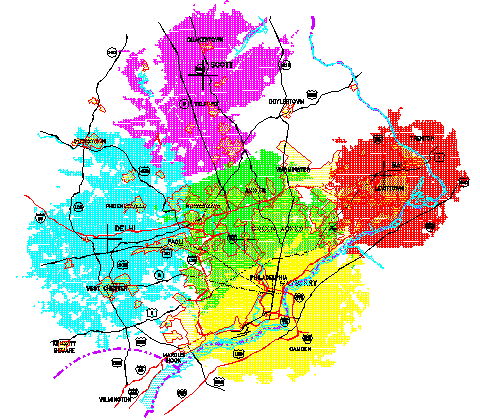 3-D Most likely Server Plot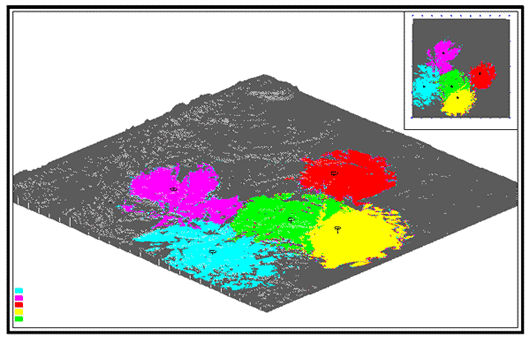 This tool is also very helpful in planning the frequency re-use and resolving the inter-system and intra-system interference problems. It can make more efficient use of the limited frequency spectrum available for wireless applications.
3-D Radio Coverage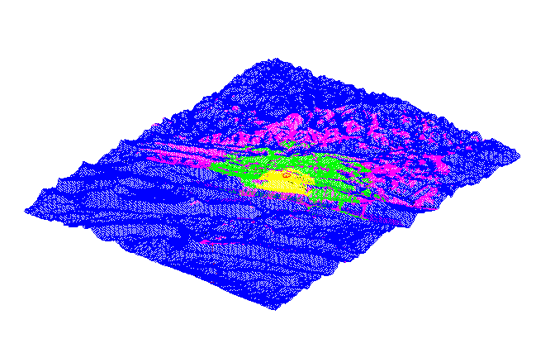 Median Field Strength Predictions
In the Today's evolving technologies, there are more number of features available to the user for some added complexity in the system. The system-wide coverage requirements always create the most challenging situations in rough terrain environment. 3-D views of problem areas in your system, makes it possible to meet the challenge and more precise analysis of the problem.
3-D Coverage Plot can provide a closer view of the tough terrain situations in downtown areas, or the areas in the vicinity of deep hollows and high mountain ridges.

Note: Also see the matching 3-D view of the terrain map.
3-D Terrain Map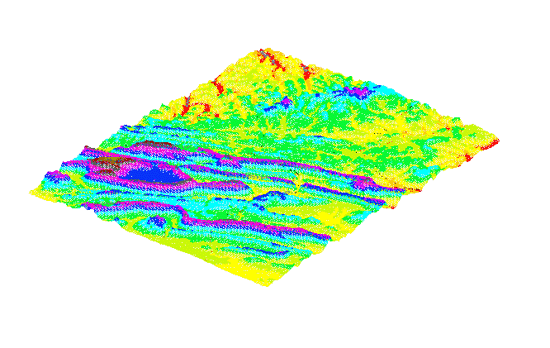 3-D Terrain Map provides a real view of the varying terrain features ranging from the high mountains to deep hollows. The infra-structure of system arteries are surrounded by the different kind of terrain throughout the system. The use of 3-D terrain maps along with the 3-D Coverage Plot, makes a good propagation analysis tool for wireless applications.
At a glance by viewing the 3-D picture of the terrain, you can visualize the situations that might arise during the system design. It simplifies the engineering analysis for the system design especially in case of situations where there is no line-of-sight. The radio sites can be overlaid on the terrain map to understand the proper location of the sites with respect to the special terrain features.
2-D Radio Coverage
Median Field Strength Predictions
Single site and multi-site 2-D RF Coverage Plot provides a good simulation tool for the preliminary system design. Field strength predictions are made based on a number of parameters pertaining to each site. The different ranges of RF Signal are characterized by corresponding different colors. The colors can be changed according to the user's requirements.
Multi Site Coverage
The single site coverage plot is used to determine the extent of coverage and multi-site coverage plot can be used to demonstrate the overall system coverage.
Single Site Coverage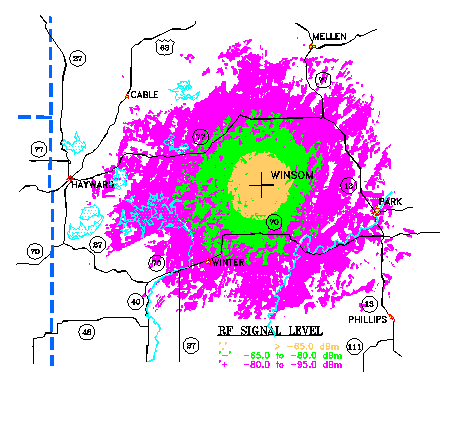 2-D Terrain Map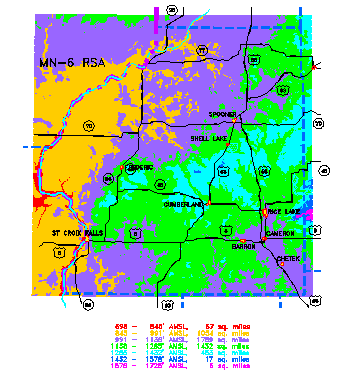 A 2-D Terrain Map provides a top level understanding of area of interest in the system. Based on the users need - localized versus system wide, a variety of resolutions ranging from 1-second to 30-second terrain data are available to draw the terrain map. In the initial system design these maps can be very useful to spot the potential sites for radio towers which can be further analyzed from site availability point-of-view and other local conditions.
The high resolution terrain maps are used sometimes to resolve localized coverage problems. The irregular terrain could add major complexities in the system design which can be simplified by the use of terrain maps.
Point-To-Point Microwave Path Profile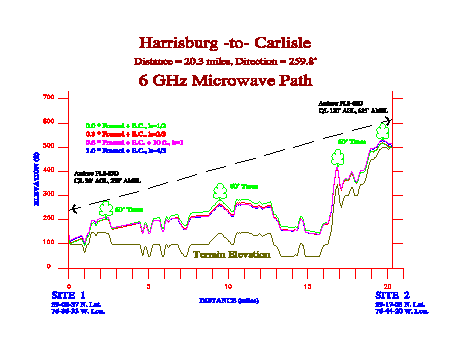 GL's Point-to-Point Microwave Path Profile is the simplest to understand and accurately drawn by using high resolution terrain data. Microwave continues to grow by providing highly reliable, superior performances and cost effective transmission solutions for the today's evolving digital telecommunications technologies.
GL's path profile program calculates diffraction and other effects for changing atmospheric conditions throughout the year. It also places the multiple obstacles such as man-made structures, buildings, trees etc. on top of the terrain along with all other pertinent effects taken into account which provides adequate clearance for the microwave path. Additionally, we can supplement the path design by walking the path by doing path survey in critical situations such as paths over water and paths over rough terrain.