Press Release: GL Announces Enhanced Voice Quality Testing Solutions
Gaithersburg, Maryland, USA - February 21, 2013- GL Communications Inc. announced today the release of its latest enhanced Voice Quality Testing Software with Perceptual Objective Listening Quality Analysis (POLQA) standard.
Speaking to reporters, Mr. Robert Bichefsky Senior Manager for product development of the company said, "GL's enhanced VQuad™ and stand-alone Voice Quality Testing (VQT) software, both support the next-generation voice quality testing standard for fixed, mobile and IP-based networks using POLQA (ITU-T P.863).
The VQT supports other international standard voice quality test methods including PESQ (ITU-T P.862), PESQ LQ / LQO (P.862.1), PESQ WB (P.862.2), PAMS (ITU-T P.800), and PSQM/PSQM+ (ITU-T P.861). This is the first time Voice Quality (POLQA) is added directly to the VQuadTM as an option.
POLQA, Perceptual Objective Listening Quality Analysis, based on ITU standard, ITU-T P.863, is the successor of PESQ (ITU-T P.862) analysis. POLQA supports the latest HD-quality speech coding and network transport technology with higher accuracy for 3G, 4G/LTE and VoIP networks."
He added, "The POLQA algorithm avoids weaknesses of the current PESQ model and handles the higher bandwidth audio signals. POLQA supports measurements in the narrow band (NB, 300-3400 Hz), and significant new capabilities for wideband (WB, 100 - 7000 Hz), and super-wideband (SWB, 50-14000 Hz), commonly found in VoIP and next generation mobile networks. Further improvements of this algorithm include the handling of signals with many delay variations and support for assessment of speech signals recorded acoustically by HATS (head and torso simulator)."
Similar to PESQ, POLQA is a Full Reference (FR) algorithm that rates a degraded or processed speech signal in relation to the original (reference) signal. POLQA analyzes the degraded speech signal sample-by-sample after a temporal alignment of the reference test signal. Perceptual differences between both signals are scored as differences. The perceptual psycho-acoustic model is based on similar models of human perception. Basically, the signals are analyzed in the frequency domain (in critical bands) after applying masking functions. Unmasked differences between the two signal representations will be counted as distortions. Finally, the accumulated distortions in the speech file are mapped into a 1 to 5 quality scale in accordance with MOS (Mean Opinion Score) tests."
Mr. Bichefsky further added, "The VQuad™ can be configured to automatically transfer the recorded speech file to the VQT central location. The VQT software can be configured to automatically analyze the voice files while sending the results (POLQA, PESQ, PAMS, PSQM) to the central database. Results associated with the POLQA analysis include POLQA MOS, E-Model, Signal Level, SNR, and Jitter measurements.
The results can be queried and displayed either in tabular or graphical format using the web-based WebViewer™ client.
Also, optionally POLQA can be added directly to VQuad™ software with support for automated testing within the VQuad script. In this scenario the degraded voice files remain at the VQuad node for analysis and are displayed within the VQuad™ software. Results can still be sent to the central database where WebViewer™ can query and display either in tabular or graphic format."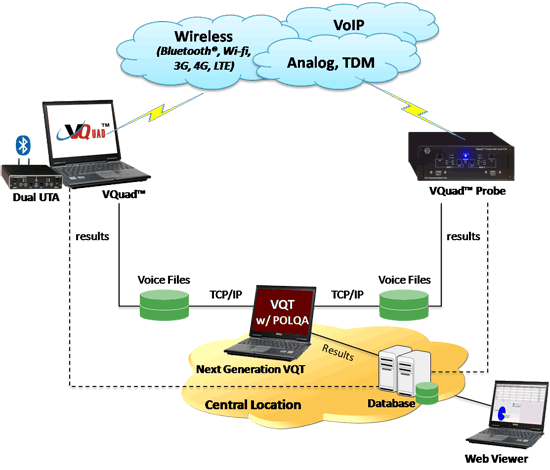 Other VQuad™, VQT Enhancements
Support for Windows® 7 32 bit and 64-bit versions
Supports new data tests for Mobile devices
Allows sending the results from manual tests to central database with 'Send Results' option
FXO Call Progress detection supports Energy detection
Option to connect to the VQuad™ behind the router to central DB.
Added auto response on local VQuad™ event screen of far-end connection when bi-directional connection is performed. Also, ads ability to auto disconnect the bi-directional connection from the near-side device.
Enhanced Scripting / Commands
About GL Communications Inc.,
Founded in 1986, GL Communications Inc. is a leading supplier of test, monitoring, and analysis equipment for TDM, Wireless, IP and VoIP networks. Unlike conventional test equipment, GL's test platforms provide visualization, capture, storage, and convenient features like portability, remotability, and scripting.
GL's TDM Analysis & Emulation line of products includes T1, E1, T3, E3, OC-3, OC-12, STM-1, STM-4, analog four-wire, and analog two-wire interface cards, external portable pods, and complete system solutions. Capabilities include voiceband traffic analysis and emulation across all traffic types (voice, digits, tones, fax, modem), all protocols (ISDN, SS7, GR-303, Frame Relay, HDLC, V5.X, ATM, GSM, GPRS, LTE, etc.), and with capacities up to thousands of channels. Our newest products provide astonishing capacity and capture capability up to and including gigabit speeds.
GL's VoIP and IP products generate / analyze thousands of calls and traffic simultaneously with traffic types such as frames, packets, voice files, digits, video, tones, noise, and fax. Almost all codecs are supported including G.711, G.729, AMR, EVRC-A,B,C, GSM, iSAC, and many more. Additional features include visual analysis, real-time listening, and recording. The product line also includes Ethernet / IP Testing capability that simulates and checks frame transport and throughput parameters of Ethernet and IP networks, including delay, errors and other impairments.
GL's Voice Quality Testing (VQT) product line complements all of GL's products. Using ITU-standard algorithms (PAMS, PSQM, and PESQ), GL's VQT provides a widely accepted solution for assessing voice quality in the telecom industry. Voice Quality Testing across multiple networks (T1, E1, T3, E3, OC-3, OC-12, VoIP, Wireless, and Landline) are all available.
GL's Wireless Products perform protocol analysis and voice quality assessment on GSM, CDMA, UMTS, and LTE networks. Connections can be made to any wireless phone with automated call control, GPS mapping and real-time signal measurements.
GL's Echo Canceller testing solutions provide the broadest range of simulation and analysis, including line and acoustic echo. GL's compliance testing per G.168. G.167, and P.340 across TDM, IP, VoIP and Wireless networks is widely accepted in the industry.
GL's wireless VQT solutions help assessing impairments to voice quality such as poor mobile phone quality, voice compression and decompression algorithms, delay, loss and gain in speech levels, noise, acoustic and landline echo, and other distortions are easily assessed and accurately measured.
GL's Handheld data testers can test a wide variety of communications facilities and equipment including T1, fractional T1, E1, fractional E1, T3 and E3 modems, multiplexers, CSU, DSUs, T1 CSUs, DTUs, NTUs and TIUs and more. The testers provide convenience, economy, and portability for almost any interface, including RS232, RS-422, RS-530, X.21, T1, E1, T3, E3, and many others.
GL's Network Surveillance and Monitoring products include Probes for TDM, IP, VoIP, ATM, and Wireless networks. An open standards based approach provides a scalable, feature rich, real-time access to network characteristics. Centralized or distributed access, efficient transport and database loading allow compatibility with 3rd party and standards based monitoring systems.
For more information about GL's complete line of products,
Contact:
Shelley Sharma
Phone: 301-670-4784 ext. 114
E-mail: info@gl.com

Back to Press Releases Index Page