Press Release: GL Releases Near Real-Time
Voice-Band Analyzer
Gaithersburg, Maryland, USA - May 29, 2007 - GL Communications Inc. announced today the release of a new product Near Real-Time Voice-Band Analyzer. Speaking to the media, Mr. Jagadish Vadalia, a Senior Manager, Product Development at GL said, "The Near Real-Time Voice-Band Analyzer (VBA) is an analysis tool for monitoring the quality of voice band traffic over VoIP, TDM, and Wireless networks. VBA works in conjunction with GL's TDM, Packet, and Wireless non-intrusive capture products". He added, "VBA instantly detects voice file captures and with appropriately installed analysis modules monitors speech levels, noise levels, line echo, and acoustic echo".
Mr. Vadalia further added, "Other analysis modules such as ITU-T P.561, P.562, P.563, fax and modem analysis, and many others can be hosted as plug-ins and will be available soon. The VBA application can also operate on previously captured files. It supports on A-Law, µ-Law, 16-bit linear PCM, and Wave file formats".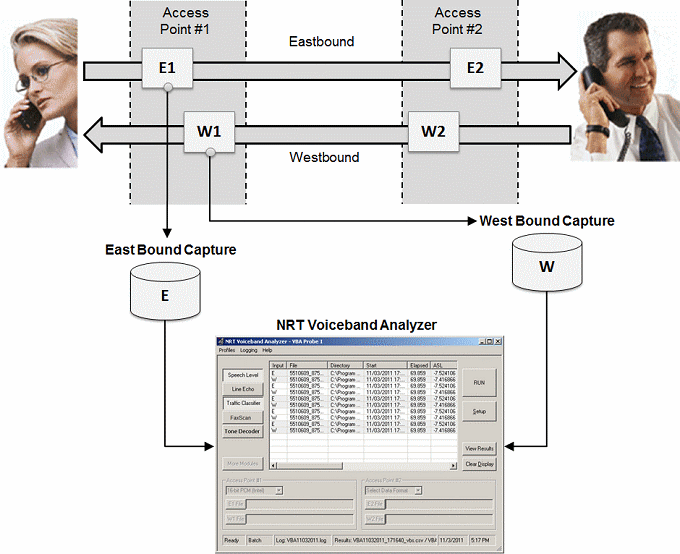 Main features
Near real-time non-intrusive analysis platform
Supports 1-, 2-, 3-, and 4-port signal data analysis
The VBA includes manual, batch, and automatic processing modes
Supports A-Law, µ-Law, 16-bit linear PCM, and WAV input data from files
Hosts built-in P.56 Active Voice Level analysis, Hybrid Echo analysis, and optional analysis algorithms as plug-ins
Can group files together into file sets and routes file data to appropriate inputs using user-specified file naming conventions. GL Call Capture and Analysis (CCA) rules are built-in
Modes of Processing
The Voice-Band Analyzer operates in three fundamental modes:
Manual:
Batch:
Automatic:
Modes of operation
The Voice-Band Analyzer GUI supports various modes of operation while analyzing voice band for speech level, and line echo.
Link Emulation:
Active Speech Level:
Line Echo Model Configuration:
Acoustic Echo Model Configuration:
About GL Communications Inc
Founded in 1986, GL Communications Inc. is a leading supplier of test, monitoring, and analysis equipment for TDM, Wireless, and VoIP networks. Unlike conventional test equipment, GL's test platforms provide visualization, capture, storage, and convenient features like portability, remotability, and scripting.
GL's TDM Analysis & Emulation line of products includes T1, E1, T3, OC-3, STM-1, analog four-wire, and analog two-wire interface cards and solutions. Capabilities include voiceband traffic analysis and emulation across all traffic types (voice, digits, tones, fax, modem), all protocols (HDLC, ISDN, SS7, CAS, GSM, GPRS, CDMA), and with capacities up to thousands of channels.
GL's VoIP products generate / analyze thousands of calls simultaneously with traffic types such as voice files, digits, tones, noise, and fax using G.711, G.729, AMR, EVRC, and GSM codecs. Additional features include visual analysis, real-time listening, recording, and voice quality assessment using ITU algorithms PAMS, PSQM, and PESQ.
GL's Wireless Products perform protocol analysis and voice quality assessment on GSM, CDMA, UMTS, and CDMA 2000 networks. Connections can be made to any wireless phone with automated call control, GPS, mapping software, and real-time signal measurements.
GL's Echo Canceller testing solutions provide the broadest range of simulation and analysis, including compliance testing per G.168 and G.160.
GL's Network Surveillance and Monitoring products include Probes for TDM, VoIP, ATM, and Wireless networks. An open standards based approach provides a scalable, feature rich, real-time access to network intelligence. Centralized or distributed access, efficient transport and database loading allow compatibility with 3rd party and standards based monitoring systems.
For more information about GL's complete line of products,
Contact:

Shelley Sharma
Phone: 301-670-4784 ext. 114
E-mail: info@gl.com

Back to Press Releases Index Page