Newsletter: Testing Voice Features in Next Generation Networks (NGN)
Welcome to another February 2013 issue of GL Communications' Newsletter providing information on our Voice Feature Testing Application for Next Generation Networks (NGNs). NGNs are based on broadband IP technology and are frequently promoted as "triple play" offerings, especially for residential services providing voice, TV, and Internet. They freely offer advanced voice features that cost extra when provided by legacy circuit switched PSTN landlines. Since these software-based services are frequently enhanced, changed, or deleted, the features can be prone to "upgrade issues". Thus automated testing tools for regression and advanced feature testing can be of great value.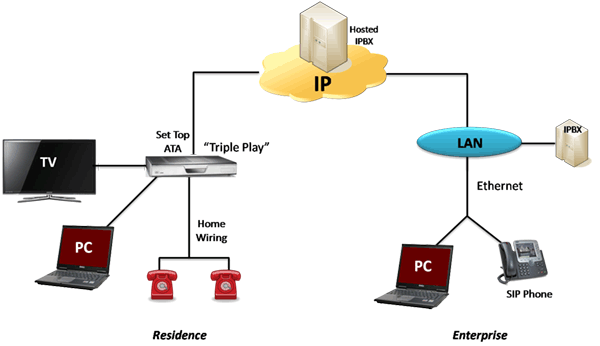 Overview
In the residential case, because customers are still "attached" to their home telephones, a desirable system that reuses the "copper home wiring" and 2-Wire standard telephone sets is a necessary offering. Here, NGN advanced voice features are similar to but more sophisticated than CLASS (Custom Local Area Signaling Service) features PSTNs offer. These features include three way calling, call waiting, call hold, caller id, call waiting with caller id among others. In many cases, these features involve detection and generation of tones and dual tones with varying cadences. Testing such features cannot be performed with standard Bulk Call Generators / Receivers. In fact, signal processing functions are required to fully test these features, see Table 1. Common 2-Wire Signaling for NGN Voice Features. In the future, the residence architecture for voice is more likely to be 4 wire SIP based WiFi phones or 3G/4G phones with higher quality audio. In either case, voice feature testing will become even more important.
Table 1. Common 2-Wire Signaling for NGN Voice Features
Tones
Frequencies (HZ) Note A
Power of Tones
Cadence
350
440
480
620
Dial Tone
•
•
-13 dBm0
Continuous tone
Recall dial tone
•
•
-13 dBm0
3 bursts of 0.1 s followed by a continuous tone (note c)
Busy tone
•
•
-24 dBm0
Burst 0.5 s / silence 0.5 s
Reorder tone
•
•
-24 dBm0
Burst 0.25 s / silence 0.25 s
Audible ringing tone
•
•
-19 dBm0
Burst 2 s / silence 4 s
Call waiting tone
•
-13 dBm0
Burst 0.3 every 10 s
Busy verification
•
•
-13 dBm0
A 2.0 s burst followed by
0.5 s bursts every 10 s
Confirmation tone
•
•
-13 dBm0
Burst 0.1 s / silence
0.1 s/ burst 0.3 s
In the enterprise case, the common conduit for voice, data, and video is Ethernet with Internet Protocol (IP) for transport and signaling. Voice will use SIP phones and IP PBXs or Hosted IP PBXs in the Cloud. This architecture will evolve to fully integrate with the desktop and converge Email, SMS, IM, Voice, and other services. Test capability for higher quality voice (any codec support) , inband and out-of-band digit transmission, and DSP are just some necessary functions.
To easily test NGN voice features, in both residence and enterprise, GL has introduced a library of functional capabilities within its standard emulation software platform called MAPS™, or Message Automation and Protocol Simulation. MAPS™ is a versatile telecommunications protocol emulator. MAPS™ CAS and MAPS™ SIPare specific MAPS™ products that provide functional capabilities to test and verify voice features of NGNs. Using "drag and drop" tools such as TestShell or scripting languages such as TCL, one can easily create compliance tests for simple to complex voice features. Listed below are some of the important functions within MAPS™ CAS CLI and MAPS™ SIP CLI.
MAPS™ CAS CLI Commands (APIs):
| | | | |
| --- | --- | --- | --- |
| Detect Busy Tone | Detect Ring Splash | Flash | Send Test Tone |
| Detect Call In Progress Tone | Detect Ringback Tone | Offhook | Send Tone |
| Detect Call Waiting Tone | Detect Ringing Signal | Onhook | Set Fax |
| Detect Caller ID | Detect Silence | Originate Call | Set Region |
| Detect Confirmation Tone | Detect Special Dial Tone | Receive Fax | Set MOE |
| Detect Congestion Tone | Detect Special Information Tone | Receive File | Set Tone Detection |
| Detect Dial Tone | Detect Stutter Dial Tone | Send Digits | Stop Send Digits |
| Detect Digits | Detect Test Tone | Send Fax | Stop Send File |
| Detect Howler Tone | Detect Tone | Send File | Stop Send Tone |
| Detect Reorder Tone | Dial | Send Silence | Verify Speech |
MAPS™ SIP CLI Commands (APIs):
| | | |
| --- | --- | --- |
| Redirection | Conference | Transfer |
| Answer Cal | Send Digits | Send Dtmf Digits |
| Detect Digits | Send File | Send Mf Inband Digits |
| Detect Test Tone | Send Test Tone | Send Mf Outband Digits |
| Detect Tone | Send Tone | Detect User Defined Tone |
| Place Call | Stop Send Digits | Hold |
| Receive File | Stop Send File | Request Failure |
| Accept | Global Failure | Verify speech |
| Attended Transfer | Server Failure | |

Back to Latest News Page