Verify Ethernet Services over Electrical and
Optical Links VLAN, Q-in-Q tags, and MPLS Testing

Typically, Ethernet services are deployed to customer using a combination of fiber optics and electrical links as depicted in the diagram. The data rate ranges from 10 Mbps through to 10 Gbps in capacity.
GL's PacketExpert™ is a compact portable platform that can be used for testing packet based Ethernet & Optical networks at all layers - from physical layer to service layers. The appliance is available is many forms – from a High-density 12/ 24-Port, Portable 4-Port, to Handheld 10G.
A portable (USB based) Quad Port PacketExpert™ has 4 Electrical Ethernet ports - 2 of the 4 ports can be Electrical or Optical ports, enabling testing on optical fiber links as well. The electrical ports support 10/100/1000 Mbps, and optical ports support 1000 Mbps (1 Gbps) using SFP.
GL also offers other portable 10G Ethernet/IP tester, PacketExpert™ 10G provides comprehensive testing of 10 Gbps wirespeed Ethernet/IP networks. It has two 10 Gbps Optical ports, and two 10/100/1000 Mbps Electrical/Optical ports.
Each GigE port provides independent Ethernet/VLAN/MPLS/IP/UDP testing at wire speed with modules such as BERT, RFC 2544, Loopback, Record/Playback, Packet Broker, ExpertSAM™, ExpertTCP™, and Multi Stream Traffic Generator and Analyzer.
GL also offers WAN Emulators -IPLinkSim™ and IPNetSim™ to test the performance of WAN network-dependent applications by emulating the WAN conditions in a local setup easily and cost effectively
For more details, Please visit: PacketExpert™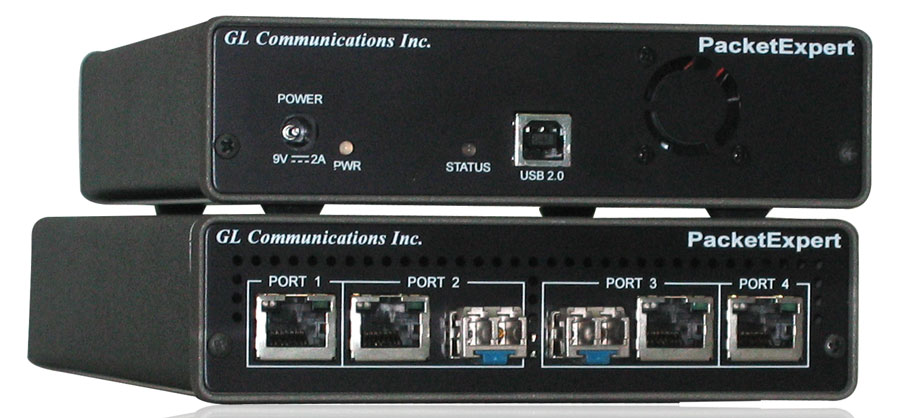 Portable 4-Port PacketExpert™
(10/100/1000 Mbps throughput, 4 Electrical / 2 Electrical + 2 Optical Ports
---
Wire Speed BERT
Handles Wirespeed BERT, in both directions, on all available ports. Send and receive different BER test patterns through Ethernet frames (standard and customized) at user-defined frame rates. This tests the routers' ability to route IP packets correctly at various speeds, and measure the ability of various routers on the path to forward IP packets in sequence and without dropping.
Traffic options lets technicians generate Ethernet frames with user-configurable frame length, and frame size with varying traffic rates. The payload (or pattern) of received frames are analysed in detail to detect and monitor mismatch in the payload and other Ethernet error conditions.
IP WAN Link Emulation
IPNetSim™ / IPLinkSim™ are simple to use tool that simulates IP WAN links using a rack-mount hardware-based unit. Connect a PacketExpert™ unit in series with existing optical or electrical links and introduce different impairment type to test the performance of various applications and services over a WAN link in the lab prior to live-deployment.
IPLinkSim™ can simulate all network impairment conditions of real world networks such as network latency, network delay variation (jitter), bandwidth, congestion, packet loss, packet FCS errors, packet bit errors and others.
For more on WAN Link Emulator platforms – please visit WAN Link Emulation webpage.
RFC 2544
Measure the performance of networks with series of sub tests - Throughput, latency, packet delay variation, frame loss and back-to-back tests with user-configurable packet headers.
ITU-T Y.1564 standard compliance
Conduct a single test to validate SLAs as per ITU-T Y.1564 standard. Up to 10 service profiles can be configured to emulate pre-defined data streams in round-trip mode.
Service Configuration Test: CIR, EIR and Traffic Policing
Service Performance Test: Several KPIs are measured simultaneously for multi streams, and Pass/Fail verdict declared to identify the QoS of the network.
VLAN, Q-in-Q tags, or MPLS Testing
Enterprise networks using VLANs, Q-in-Q for traffic prioritization and classification. With PacketExpert™, you can emulate Ethernet traffic with stacked VLAN (Q-in-Q) and stacked MPLS (supports up to 3) configurations.
Smart Loopback
PacketExpert™ supports Layer-wise loopback as well as Smart Loopback. Application of smart loopback (auto layer detection) for the incoming traffic allows you to verify if the frames are conforming to Ethernet addressing rules.
Record and Playback
PacketExpert™ is designed to work as a Wirespeed Ethernet Tap, and as a High-Precision Wirespeed Traffic Generator over optical or electrical interfaces with support for up to 1 Gbps. It supports all the features of high-end taps in a portable unit providing mobility and storage capacity to reach any point in the network.
PacketBroker
PacketBroker is another application supported on GL's PacketExpert™ 1G that allows the test tool to be used as a highly precise non-intrusive Wirespeed Ethernet Tap with all the necessary features such Pass through Tap, Hardware Filtering, Packet Modification and Output aggregation.
ExpertSAM™
ExpertSAM™ module is a single test conducted to validate service-level agreements (SLAs) as per ITU-T Y.1564 standard. ExpertSAM™ is intended for multiservice testing to measure the maximum performance of the DUT or the Network under test. In particular, it is aimed at solving the limitations of RFC 2544 test. ExpertSAM™ defines a methodology to test Ethernet-based services to carry a variety of traffic.
Multi Stream Traffic Generator and Analyzer
Multi Stream UDP/TCP Traffic Generator and Analyzer is a hardware-based Ethernet tester capable of generating multi-stream Ethernet traffic of varying packet length and also analyze the loopback traffic. This tool finds itself especially useful for end-to-end testing of 1 Gbps and 10 Gbps WAN (Wide Area Network) links. It is also available on GL's powerful test platform - PacketExpert 10G™, that sports dual 10 Gbps optical and dual 1 Gbps optical/electrical ports.
ExpertTCP™
ExpertTCP™ supports RFC 6349 based TCP Throughput test methodology, and capable of handling Simultaneous bi-directional testing/unidirectional testing can be performed. Up to 8 TCP connections are supported on 1G platform, whereas up to 16 TCP connections are supported on 10G platform. Results are reported for both directions. The server at the remote location is completely controlled by the client side (located locally). User configures both client and server locally, and the results are displayed locally, avoiding the hassles of configuring the test at multiple locations.
For more information, please filling out the Information Request Form