GL Announces Skinny Protocol Emulation and Analysis
Gaithersburg, Maryland, USA – October 18, 2013- GL Communications Inc announced today its MAPS™ Skinny Protocol Emulator and PacketScan™ - Skinny Protocol Analysis applications.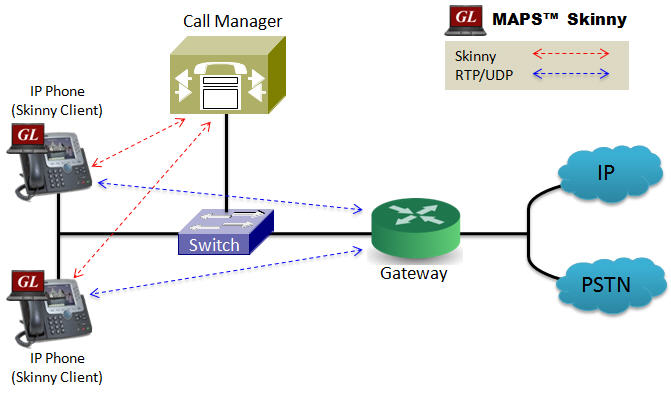 Speaking to reporters, Mr. Karthik Ramalingam, Senior Manager for Product Development of the Company said, "Skinny Call Control Protocol (SCCP), also referred to as "Skinny," is a Cisco Systems proprietary signaling and control protocol used to communicate between IP devices and Cisco Unified Communications Manager for call establishment, teardown, and control in VoIP environments. It is widely deployed in VoIP enterprise solutions and is increasingly supported by third-party service provider. It is a simple, lightweight, very feature-rich stimulus protocol deployed in conjunction with Cisco IP phones."
He added, "GL's MAPS™ (Message Automation and Protocol Simulation) is an advanced and versatile protocol simulator/tester that can simulate a variety of protocols encountered in the telecom space, including ISDN, CAS, SS7, VoIP, Wireless (2G,3G & 4G) and others. It is now enhanced to support 'Skinny' - SCCP, Cisco Systems proprietary signaling and control protocol.
GL's MAPS™ Skinny Emulator can be used to emulate IP Phones (Skinny Clients) in VoIP environment."
Mr. Ramalingam further added, "The supported call control functionalities include: registration and management, call control (setup, teardown, and statistics), media (audio) stream control. In addition to call simulation in VoIP environment, the emulator also supports error tracking, regression testing, conformance testing, load testing, and message generation. It can run pre-defined test scenarios against test objects in a controlled & deterministic manner.
MAPS™ Skinny Emulator supports powerful utilities like Message Editor, Script Editor, and Profile Editor, which allow new scenarios to be created or existing scenarios to be modified."
---
Important Features
Emulates Skinny Call Control Protocol (SCCP) clients (IP Phones)
User-friendly GUI for configuring the SCCP signaling links over IP
Ready scripts for registration, call control (setup, teardown, and statistics) procedures
Logging of all messages in real-time
Supports customization of placing and answering calls using Profile editor and Message editor
Provides protocol trace with full message decoding of the call control messages
Script based & protocol independent software architecture
Provides call reports with associated captured events and error events during call simulation
Option to send reports to database accessible via web interface

Back to Press Releases Index Page