GL Announces Enhanced Handheld Analog Line Tester
Gaithersburg, Maryland, USA - May 15, 2014 - GL Communications Inc., announced today the release of its enhanced Portable Handheld FXO Tester referred to as vHandi™.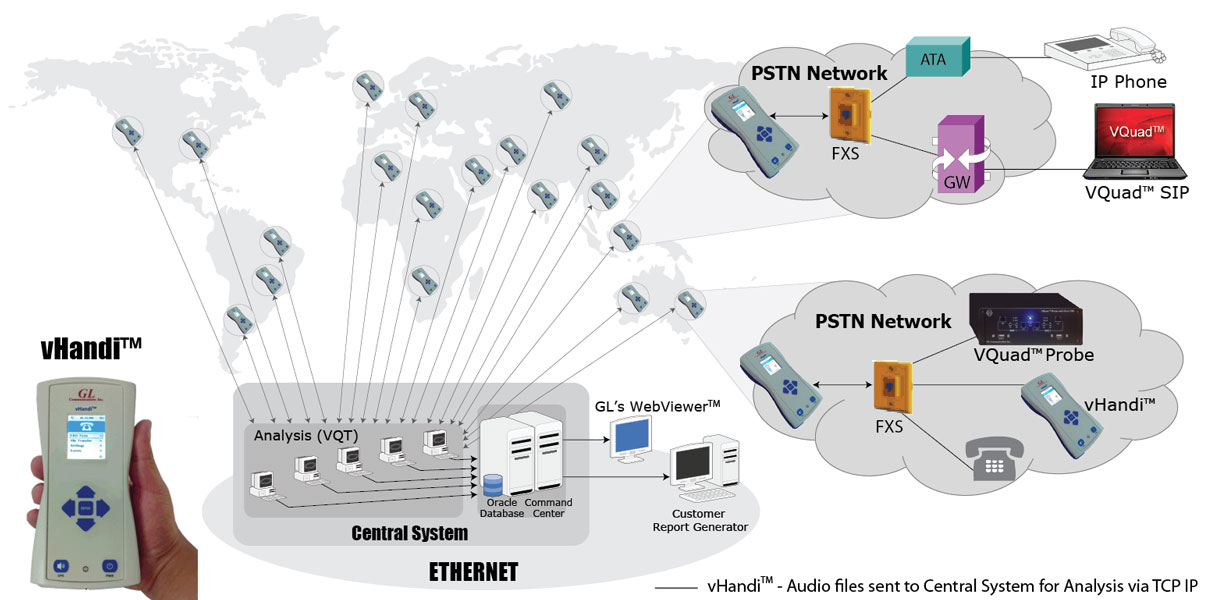 Speaking to reporters, Mr. Robert Bichefsky, a Senior Manager for Product Development of the company said, "GL's vHandi™ is a compact portable hand-held FXO tester (Foreign Exchange Office) that can simulate an analog phone. The call and voice tests on vHandi™ can be completely automated or manually performed. It can work with GL's VQuad™, Voice Quality Test, and WebViewer™ applications to perform centralized voice quality measurements and analysis."
He added, "The vHandi™ comprises of - FXO RJ-11 port, Ethernet RJ-45 port, and USB mini port. The FXO port on the vHandi™ connects to an FXS port performing call and traffic simulation. It supports any FXS port including PSTN, ATA or Gateway."
Mr. Bichefsky further added, "The vHandi™ is powered as well as managed via the USB connection. With an internal SD card, vHandi™ can be used as a mass storage device when plugged into the USB port of the PC. The Ethernet port is used for Management and for connecting vHandi™ to the Central System for voice analysis as well adding events to the Central Database."
---
Main Features
Supports manual and automated operations
ON hook and OFF hook (loop closure) for place call and answer call
Loop Current Drop detection (auto disconnect)
Ring Detection for incoming calls
Transmit and capture traffic (digits, tones, and voice)
Energy Detection for path confirmation or auto script synchronization
Manual/Auto transfer recorded files using Ethernet port
Speaker provided to hear incoming/outgoing audio from 2-wire established call
LED indication for the battery charge level for vHandi™
Generates Call Events, Error Event and Traffic Events – automatically sent to the Central System
Automate IVR testing and Quality of Service testing
Send/Record Voice files to be used in Voice Quality Measurements per ITU-T standards (PESQ, POLQA) using GL Voice Quality Test (VQT) software
vHandi™ works directly with GL's VQuadTM solution for sending/recording voice files over the network.
Full IVR test and analysis
vHandi™ can be placed anywhere in the network waiting for an incoming call. When an incoming call is detected, vHandi™ will auto answer the call and perform a pre-defined IVR and/or Voice analysis tests prior to disconnecting the call and again waiting for the next incoming call.

Back to Press Releases Index Page