Press Release: GL Announces T1E1 Quad & Octal Analysis & Emulation Hardware
Gaithersburg, Maryland, USA - February 6, 2012 - GL Communications Inc. announced today the release of its newest T1 E1 Quad and Octal Analysis and Emulation hardware.
Speaking to reporters, Mr. Jagdish Vadalia Product Development Manager said, "GL's Octal & Quad T1 E1 boards are high density and provide Four (4) or Eight (8) RJ-48 T1 E1 ports and multiples thereof. For example, configurations of 8, 12, 16, 64 T1 E1s in a single rack are possible."
He added, "The cards are available with user-friendly GUI for Windows® XP and Windows® 7 operating systems with support for almost all existing T1 E1 Analyzer applications including Comprehensive Analysis / Emulation of Voice, Data, Protocol, Digital, and Echo Testing."
Mr.Vadalia further added, "GL's also offers other popular forms of T1 E1 analysis hardware such as Portable USB T1 E1 Analyzer with dual T1 E1 ports & smallest form factor, tProbe™ T1 E1 Analyzer Unit - an enhanced version of USB based T1 E1 VF & Serial Data analyzer with expansion capabilities, Universal T1 E1 Analyzer Boards - a dual port PCI based T1 E1 analyzer offering higher speed factor and smaller dimensions."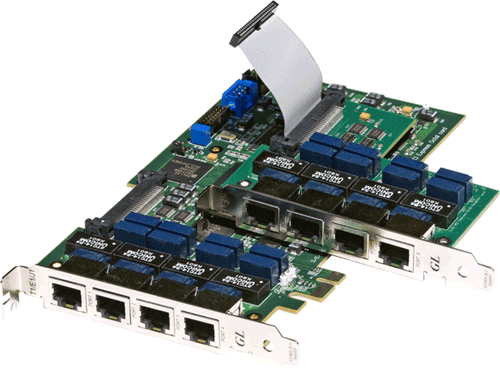 Important Applications / Features:
T1 or E1 interfacing – Software Selectable


TDM, ISDN, SS7 – High Density Voice


VoIP, Frame Relay, Multi-Link Frame Relay, PPP, IMA, and Multi-Link PPP, HDLC


Most all "special applications" are available for Quad and Octal T1 E1 cards


Call Recording, Generation, and Monitoring for hundreds to thousands of calls in one platform


Windows® and Linux Drivers for Open Source Applications


Media (VoIP) Gateway, IP PBX, and IVR Applications i.e. Asterisk (TM)


Router with Multi T1 E1 WAN Interfaces i.e. ML-PPP (Multi Link PPP)


PCI Express x1 Lane/Board


"Cross-Port Through" and "Cross-Port Transmit" Modes – these configurations make cabling with Drop/Insert and Fail-Safe Inline Monitoring very easy


High Density and High Speed – The boards (with Direct Memory Access) are significantly faster and significantly more efficient


Octal boards are compatible with dual, quad, and higher core motherboards and software that simulate dual and quad cores (hyper-threading)
For the comprehensive information on the hardware, you can refer to Octal & Quad T1 E1 Analysis and Emulation Hardware web page.

Back to Press Releases Index Page