Newsletter: GL Announces Powerfull Packet Test Tools - PacketScan™ and RTP Toolbox™
All the world's packet or so it seems. Wired and wireless networks are migrating to packet. Voice, data, and most recently video are either packet or moving to packet. Transportation networks have an uncanny resemblance to packet communication networks. Can we apply the concept of "packets" elsewhere? Interesting, isn't it?
The fundamental idea behind "packet communications" is that a packet only occupies the channel it's using for the length of the packet. Thus, resources such as switching and transmission can be shared at other times for other packets. Other advantages of "packet" are routing diversity to create more survivable or reliable networks and most importantly, multi-point communications from a single user interface i.e. "browsers".
Packet communication also facilitates non-intrusive examination, organization, sorting, capture and storage of packet "streams". This is where GL Communications comes in. We have very powerful tools for analyzing and simulating packet-based communications. Recently we have made significant enhancements to two of our products: PacketScan™ and RTP ToolBox™.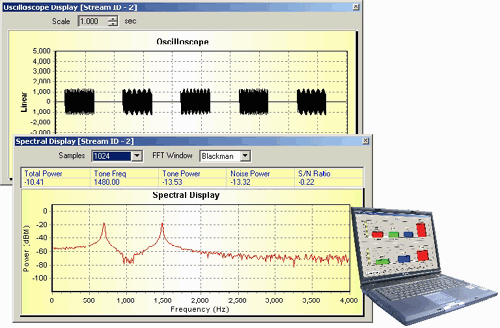 GL's PacketScan™ with Detailed Media Analysis
GL has developed the world's most powerful and in-depth packet analyzer and packet probe - PacketScan™ with VOIP Protocol Analyzer (VPA) and Traffic Analyzer (TA). It can monitor, report, analyze, and capture VoIP calls (SIP, H323, Megaco, MGCP) for infinite time, limited only by the finite space of your hard disk or network hard drive! Other features include:
Call Quality Of Service (QOS) for all calls with E-Model based (G.107) Mean Opinion Score (MOS) and R-factor with individual and summary statistics presented in graphical and tabular formats.
Real-time Call Detail Records (CDRs) generation.
Call Capturing based on Call Agents or Trigger Actions such as MOS, packet loss, latency, or called / calling numbers.
Use of PacketScan™ as a widely deployed probe of a centralized monitoring system with associated relational or Oracle database.
Decode G.726 RTP in AAL2 or IP packing types.
Decode AMR in all packing formats.
PacketScan™ supports standard codecs such as G.711 (mu-Law and A-Law), GSM (Full Rate), G.729a, G.729b, G.726 (All Rates), AMR (All Rates), EVRC*, SMV*, iLBC and SPEEX.
And many other features for detailed, real-time analysis of VoIP calls.
For comprehensive information on GL Communications' PacketScan™ click here.
GL's RTP ToolBox™ with Client-Server
GL's RTP ToolBox™ with Client-Server is the most comprehensive tester of Gateways, ATAs, and other voice signal processing functions in VoIP networks. Features include:
Automatically scan for incoming RTP voice streams and generate your own.
Real-time Oscilloscope and Spectral Analysis of any Codec.
Generate and analyze voice files, test tones such as DTMF, MF, R2, and others.
Record/Playback user defined files
VQMon based R-factor and MOS scoring.
Call control - Originate and answer with proxy registration supported.
TCL (Tool Command Language) Client is an application that allows you to connect remotely to GL's RTP ToolBox™ via TCP/IP.
RTP ToolBox™ supports standard codecs such as G.711 (mu-Law and A-Law), GSM (Full Rate), G.729a, G.729b, G.726 (All Rates), AMR (All Rates), EVRC*, SMV*, iLBC and SPEEX.
Client-Server operation - Besides the TCL interface, an optional remote Command Line Client Interface is still available.
Echo Canceller Testing - call generation feature allows users to dial directly to gateways to access TDM trunks and GL's T1 and E1 Analysis cards to perform G.168 Echo Canceller tests from the IP side.
For comprehensive information on GL's RTP ToolBox™ click here.

Back to Latest News Page