Newsletter: GL Releases PacketCheck™
- Software Ethernet Tester
Welcome to the January, 2009 issue of GL Communications' Newsletter providing information on our newest product PacketCheck™- A Software Ethernet Tester.
Overview:
GL's newest PacketCheck™ is a PC based Ethernet test tool that is designed to check frame transport ability and throughput parameters of Ethernet and IP networks. It can be used as a general purpose Ethernet performance analysis tool for 10Mbps, 100Mbps and 1Gbps Ethernet local area networks.
The application makes use of the network interface card (NIC) in the PC to transmit and receive Ethernet packets over the network. Throughput up to 500Mbps can be easily tested.
PacketCheck™ allows generating full duplex (transmit and receive) IP, UDP, or Ethernet frame traffic with on-demand bandwidth (up to 500Mbps) control. Also included is BER testing capability with provision for user defined test patterns. Users can control the duration of traffic, and specify the format length, type, source IP and MAC address, and destination IP and MAC address.
The software allows monitoring end to end performance statistics such as total packets, packet loss, out of sequence packets, error packets, correct pattern frames, pattern sync status, and protocol statistics (Broadcast / Unicast frames, IP/Non IP frames etc). It can operate on any of the three layers - Layer 2 (Data Link), Layer 3 (Network), and Layer 4 (Transport) of the OSI reference model.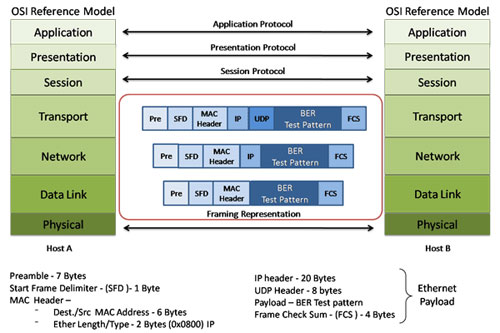 Important features:
Test Ethernet traffic of up to 500Mbps bandwidth
Generates full duplex IP, UDP, or Ethernet frame traffic to transmit and/or receive traffic on any of the three layers (Data Link / Network layer / Transport) with on-demand bandwidth
Bit-error-rate testing (BERT) on layer 2, layer 3, and layer 4 with detailed runtime statistics for both Tx and Rx
Customizable 2 bytes test patterns
Customizable protocol headers like MAC Source/Destination address, Length/Type field, IP Source/destination addresses, and UDP Source/Destination Port
64 bytes to 1518 byte frame lengths supported
Supports end-to-end (Tx and Rx) performance statistics monitoring
Capacity to control the traffic duration with Tx and/or Rx run-time settings in seconds
Ethernet Level BERT, Tx and Rx frame statistics
IP level BERT, Tx and Rx packet statistics
UDP level BERT, Tx and Rx packet statistics
Generates test report summary in a log file
Provides NIC performance details, such as, Received OK frames, Buffer overflow frames, and Received error frames
For a comprehensive understanding of the product, please visit PacketCheck™ web page.

Back to Latest News Page