Newsletter: GL Announces Intrusive Network Voice Quality Testing Solutions
Welcome to the January issue of GL Communications' Newsletter providing information and insight into our Intrusive Network Voice Quality Testing Solution. This product offers a complete solution for testing voice quality over PSTN, VoIP, TDM, and Wireless telecom networks. Its simplicity and ease of use make it ideal for hybrid networks encountered in today's telecom environment.
An Overview
Today's telecommunication network is a combination of Wireless networks, VoIP networks and traditional PSTN networks. In many cases, voice calls may originate in one network and terminate in another. Voice quality can easily become an important issue. Efficient proactive monitoring can be a valuable diagnostic tool as well as a good indicator of combined network performance. More and more operators will choose a complete voice quality testing solution to verify the quality of their service, thereby providing better service for the end customer.
GL's Intrusive Network Voice Quality Testing Solution consists of the following important components: VQT Algorithm, VQuad™ Node Sites, Regional Command Center (RCC), and Remote Client NetViewer™ (RCN). These are depicted below and described further.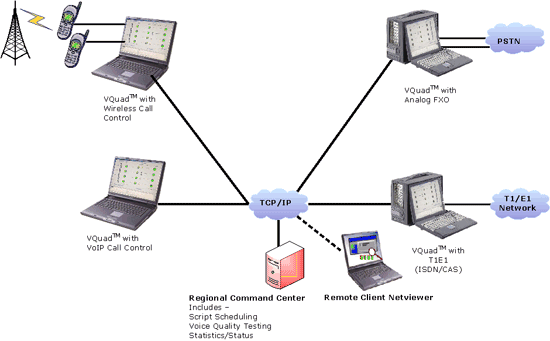 VQT Algorithm
This main algorithm residing at the RCC performs the VQT measurement on all "degraded voice files". It utilizes the ITU-T P.862.1 PESQ algorithm. Some features include; auto measurement, jitter, clipping, latency, noise and signal measurements. Other features include: a threshold rating system (excellent/good/fair/poor), sort/search capability on all results, and complete logging of results within an accessible database.



Learn More about the VQT Algorithm
VQuad™ Node Sites
VQuad™ Node Sites make and receive calls under control of the RCN. Each VQuad™ node site can be equipped with interfaces for;
Wireless Units, i.e. Mobile Phones or Radios
Analog/Digital/VoIP Phone Handsets
FXO Analog Interfaces, i.e. 2-Wire PSTN
VoIP (SIP Call Control) Interface
T1 E1 (PRI ISDN/CAS) Interface
Each VQuad™ can perform automated call control for all interfaces through scripting, transmit / receive voice files (supports both 8 and 16 bit PCM), and perform round trip delay (RTD) measurements. Each VQuad™ also supports complete bi-directional testing.



Learn More about VQuad™ Node Sites
Regional Command Center (RCC)
The RCC includes full control, automation, scripting, scheduling, and VQT Measurements for the entire region along with a Degraded Voice File Transfer Utility (automatically transfers the Degraded Voice files from the VQuad™ nodes to the RCC). The RCC controls all distributed sites, including such actions as
starting voice transmission and reception tasks for each site at user-defined times,
monitoring each site's working status in real time,
automatic gathering of received (degraded) voice files for each site,
and calculating and archiving voice quality scores in real time
The RCC can also be configured to continuously check the status of each distributed site. For a failed site the RCC will take necessary actions for recovering, sending error messages to the Remote Client NetViewer™, and/or sending an alerting email to the network administrator. All actions are user-definable.



Learn More about the Regional Command Center
Remote Client NetViewer™ (RCN)
The Remote Client NetViewer™ (RCN) can control many RCC's and view individual VQuad™node sites. The RCN can also remote control individual VQuad™ sites and control the VQT Measurement process. From the RCN, one can build and edit RCC and VQuad™ automation scripts, start and stop automation tests, and check overall status of the network. Using the powerful query mechanism of the RCN, VQT results including MOS, Jitter, Clipping, RTD, Call Control Events, and Error Events can be searched on a per measurement or per call basis. Results are displayed both in tabular and graphical formats.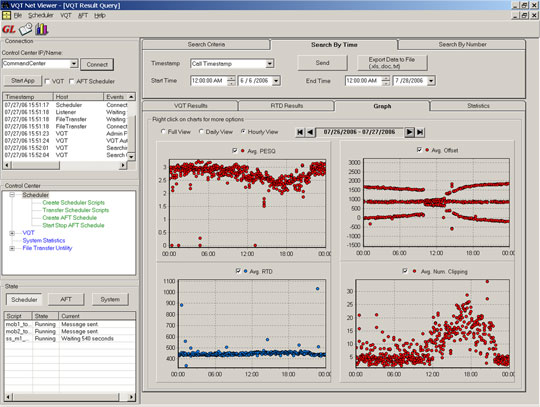 Back to Latest News Page