Press Release : GL Announces Emulation of 3G Protocols Over IP
Gaithersburg, Maryland, USA - November 21, 2011 - GL Communications Inc. announced today the release of its latest product Emulation of 3G Protocols Over IP.
Addressing a press conference, Mr. Karthik Ramalingam, Product Development Manager, said, "The transition to an all IP infrastructure is not necessarily waiting for LTE (4G). Carriers are building out their 3G networks opting for IP (Internet Protocol) over ATM (Asynchronous Transfer Mode) in the core network as well as the Radio Access Network (RAN). Although ATM was the original transport / switching methodology recommended by standards bodies for 3G, it's been widely accepted that IP is more flexible and economical in accommodating a mix of traffic (voice, video, and data) while providing almost equal performance for real time traffic, e.g. voice. IP provides much better link utilization for heavily loaded last mile links (Node B to RNC – so called "backhaul links"). Our latest product emulates all elements involved in the IuCS and IuH interfaces, namely the RNC, MSC, Home NodeB (HnB - Femtocell), and Home NodeB (HnB) Gateway".
He added, "Universal Mobile Telecommunications System, or UMTS, is a 3rd generation mobile technology evolved from GSM (2nd generation) technology. It uses WCDMA (Wideband CDMA) as the radio access technology. With increased spectral efficiency and higher bandwidth, the UMTS network can support greater data rates as well as voice and video to wireless end-users. The underlying transport layer for UMTS in the core network can be Asynchronous Transfer Mode (ATM), or Internet Protocol (IP).
IP based UMTS supports integrated services such as multimedia and global roaming to mobile users. To emulate the various components of UMTS, GL utilizes its MAPS foundation architecture – a versatile platform for detailed emulation of a wide variety of protocols. MAPS™ supports emulation of many protocols like ISDN, SS7, GSM, LTE, SIP, Megaco, MGCP, SIGTRAN, and many others."
Mr. Ramalingam added, "GL's Message Automation & Protocol Simulation (MAPS™) designed for UMTS IuCS interface can emulate the RNC (Radio Network Controller) and the MSC (Mobile Switching Centre) by generating RANAP and DTAP signaling messages over SCTP. RANAP is a control plane protocol (Iu interface) between RNC (Radio Network Controller) and the CN (Core Network) in the UMTS stack. DTAP is a layer 3 protocol between the MSC (Mobile Switching Center) and the MS (Mobile Station).
GL's Message Automation & Protocol Simulation (MAPS™) designed for UMTS IuH interface can simulate Femto Home Node B (HnB), and a Femto Home Node Gateway (HnB-GW) by generating RANAP signaling messages over SCTP as Transport layer. A femtocell is a small cellular base station designed for use in residential or small business environments. Femtocells can offload the RAN and provide better coverage, plus improved data download & upload speeds. IuH links Femto Access Point (HNB) and a Femto Gateway (HNB-GW).
MAPS™ also supports RTP traffic simulation over UMTS-IuCS and UMTS-IuH interfaces. RTP traffic simulation supports the following actions for almost all standard codecs:Transmitting Voice Files, Transmitting DTMF, MF Digits, and other Tones and Dual Tones, Recording Voice Files, Monitoring Single and Dual Tones, DTMF and MF digits, Loopback, Talk using Microphone, Play to Speaker."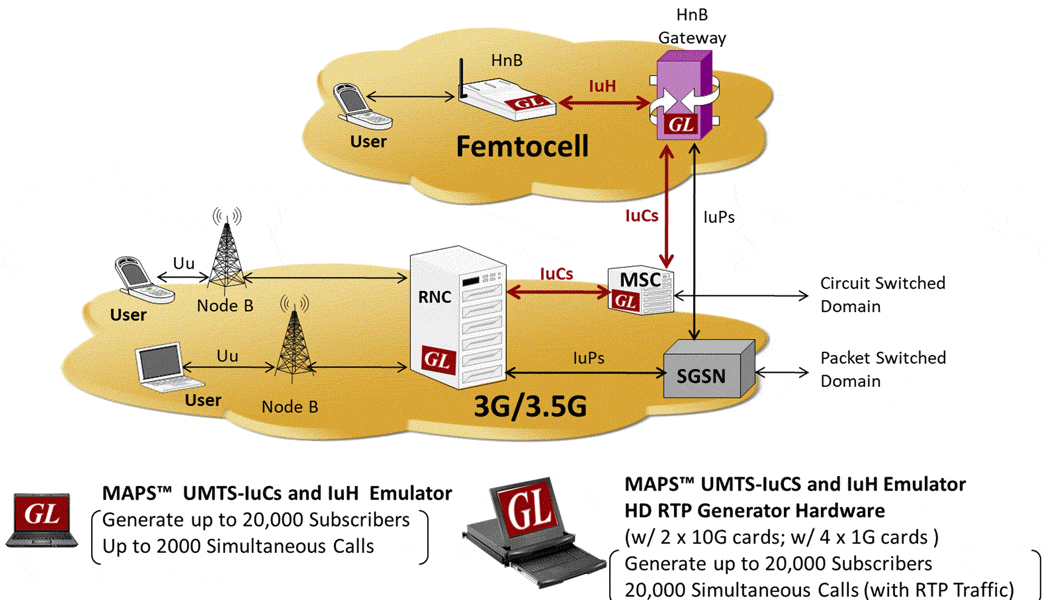 Some of the Important Features
Simulates MSC, RNC, HNB, and HN GW entities
Generates and process all Mobility Management, Session Management, RANAP, and DTAP messages
User controlled access to RANAP, and DTAP messages
Ready scripts for Mobile Originating, Mobile Terminating, Location Updating procedures for quick testing
Supports Authentication, TMSI Reallocation, Encryption, and other optional procedures
Provides fault insertion, and erroneous call flows testing capability.
Impairments can be applied to messages to simulate error conditions
Supports RTP traffic generation and reception (requires additional license)
For comprehensive information on the application, please visit UMTS IuCS and IuH emulation over IP web page.

Back to Press Releases Index Page