Newsletter: GL Simplifies End-to-End Voice Quality Testing
Welcome to the September 2009 issue of GL's Newsletter providing information and insight into our latest product VQuad™ with Dual UTA hardware support.
Overview
VQuad™ software combined with new Dual UTA hardware makes connection and analysis to any network (VoIP, 2Wire, T1 E1, and Mobile) easier, less cluttered, and more versatile than ever before.

The one platform now:
integrates many outboard features of the older single UTA,
doubles the number of simultaneous interfaces,
adds GPS accuracy and synchronization,
adds dual Bluetooth interfaces,
adds features such as RTD, OWD (one way delay) and many others,
and ultimately simplifies voice quality testing across all networks
low power USB hardware, no external power required,compatible with NetBooks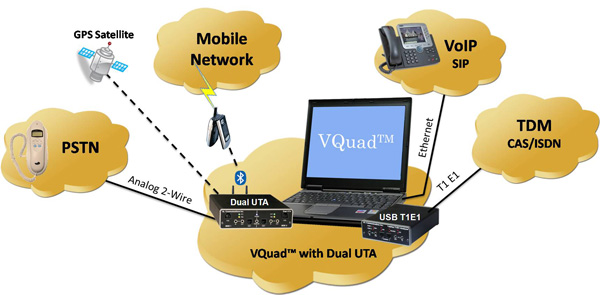 Voice quality testing across all networks
The single platform provides the means of sending and receiving speech signals through various network interfaces including Wireless, VoIP, 2 Wire analog (PSTN), and TDM (T1 E1). VQT software then analyzes the transmissions using ITU standard algorithms, PESQ, PAMS, and PSQM. Measurements are provided for Mean Opinion Score (MOS), speech level, noise level, echo, and other distortions common to voice transmissions. In addition features are provided for easy automatic, remote, and repetitive runs.
Additional analytical measurements can be provided with GLís Voice Band Analyzer (VBA) for echo, activity factor, and other voiceband parameters. Round Trip Delay and One Way Delay measurements are provided directly by the Dual UTA hardware. Other important new features of VQuad™ are:
PDD (Post Dial Delay) measurements for all interfaces
SNR measurements
Caller ID detection and display
Enhanced scripting and remote operation
Ability to inject impairments
Full monitoring capability
Automated PTT (Push-to-Talk) functionality for military / mobile radios
For more information on the features available, please refer to the VQuad™ web page, or give us a call.

Back to Latest News Page