Newsletter: GL Enhances PacketExpert™
with MPLS and VLAN (Q-in-Q)
Welcome to a July 2011 issue of GL Communications' Newsletter providing information and insight into our Enhanced PacketExpert™ - Quad Port Ethernet / VLAN / MPLS / IP / UDP tester.



Click to watch PacketExpert™ Video
Overview

PacketExpert™ is a portable Quad Port Ethernet / VLAN / MPLS / IP / UDP Tester with 4 Electrical Ethernet Ports (10/100/1000 Mbps) and 2 Optical Ports (1000 Mbps). PacketExpert™ connects to a Notebook PC through a USB 2.0 interface and each port provides independent Ethernet / VLAN / MPLS / IP / UDP testing at wirespeed for applications such as BERT, RFC 2544, and Loopback.
BERT is implemented for all layers (as depicted below). RFC 2544 is applicable for Layers 2, 2.5, and 3, and Loopback is applicable for Layers 1, 2, 3, and 4.

It truly takes confusion out of Ethernet testing at all protocol layers - from raw Ethernet frames to IP/UDP packets. It can be used as a general purpose Ethernet / IP performance analysis tool for 10 Mbps, 100 Mbps and 1 Gbps Ethernet local area networks and wide area networks. Below is a depiction of the protocol stack that is supported with PacketExpert™.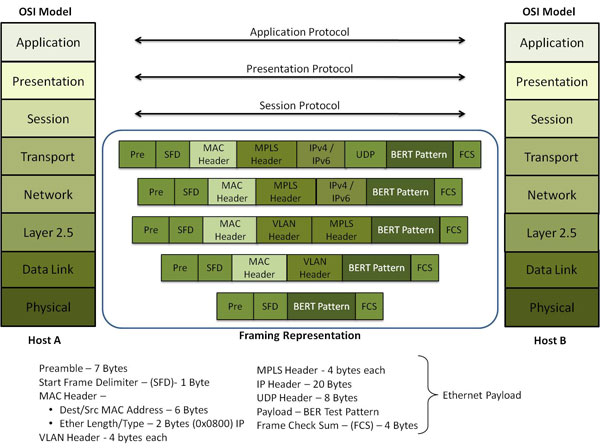 Multi-Protocol Label Switching (MPLS)
MPLS is a switching technology that achieves low latency, high throughput, and an efficient routing scheme for all types of traffic. Quality of Service (QoS) and traffic engineering are inherent features of MPLS. Testing essentially involves sending appropriately formatted MPLS packets through an MPLS provisioned network and verifying:
Connectivity - traffic is properly routed to the correct destination, i.e Label Switching Path
Performance - QoS characterstics like Packet Loss, Bandwidth, and Latency are controlled within defined limits
Both end to end testing from customer edge to customer edge as well as testing within the core MPLS network is important. PacketExpert™ does both.
MPLS testing features of PacketExpert™:
Supports up to 3 MPLS stacked labels. Multiple MPLS label stacks are particularly useful in testing MPLS VPN implementations, multiple MPLS providers and MPLS tunnels.
Supports full editing options for MPPLS header and provides detailed statistics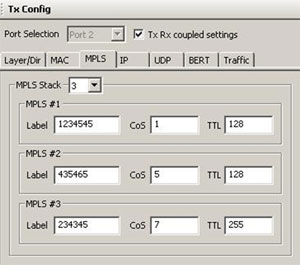 PacketExpert™ Screenshot - MPLS Label Stacking
PacketExpert™ allows users to configure the Label Value, the CoS bits and the Time-to-Live (TTL) for each label, in addition to selecting the number of MPLS labels.
PacketExpert™ automatically inserts the Bottom of Stack flag. Also, MPLS related statistics like the Packet Counts per Stack position are provided for detailed analysis.
PacketExpert™ combines MPLS testing with the BERT and RFC 2544 test capabilities. It can send MPLS enabled streams in its BERT and RFC 2544 tests and report various QoS measurements like Bit Error Rate, Throughput, Frame Loss, and Latency.

RFC 2544 Throughput Results

RFC 2544 Latency Results
MPLS related statistics like the Packet Count per MPLS stack position are also provided.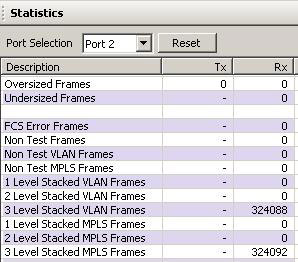 MPLS and VLAN Statistics
VLAN Stacking or Q-in-Q
VLAN stands for Virtual Local Area Network. As the name suggests, VLAN technology enables creation of multiple logical networks on the same physical Ethernet LAN. It achieves this by using the VLAN tagging. The Ethernet frame is modified to carry a VLAN header that contains a VLAN tag. The VLAN tag identifies the VLAN (logical network). All the ethernet frames that belong to the same VLAN carry the same tag, and switching is done based on the VLAN tag.
VLAN Stacking or Q-in-Q allows multiple VLAN tags to be stacked, and finds use in technologies like Carrier Ethernet.
Stacked VLAN (Q-in-Q) testing
Stacked VLAN (Q-in-Q) support has been added to the BERT and RFC 2544 tests of PacketExpert™. BERT and RFC 2544 support VLAN tagging up to 3 levels and as part of configuring the BERT / RFC 2544 test stream, the user can configure Stacked VLAN as shown below: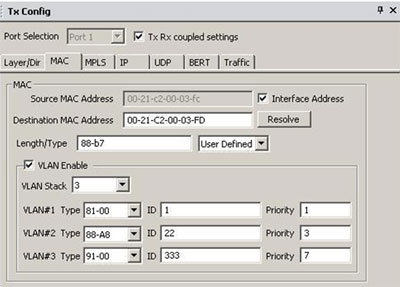 PacketExpert™ Screen - Stacked VLAN configuration
Users can configure the VLAN ID, the Priority bits and even the Ether/Type field for each VLAN stack. Also, users can select the number of VLAN stacks. Enabling Q-in-Q in BERT and RFC 2544 testing permits verification of VLAN QoS requirements.
For comprehensive information on the application, please refer to the PacketExpert™ webpage.

Back to Latest News Page