DCOSS Traffic Generation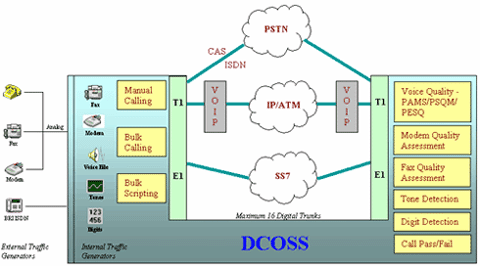 Overview

Generating telecommunications traffic is one of the essential elements of a quality CO Simulation tool. Traffic generation, over established voice calls, provides quality measurement results for VOIP Networks, Wireless Networks, PSTN, ATM Networks, and all switch types that utilize T1/E1 circuits.

DCOSS provides two methods of generating traffic. External traffic generation implies that analog/digital phones, fax machines, and modems be connected directly to the DCOSS for both generating calls as well as terminating calls. DCOSS can accept up to 64 analog phones and/or 16 BRI channels. Internal traffic generation is accomplished using the onboard DCOSS DSP resources.
Voice Files (PCM a-Law, PCM u-Law, WAV), DTMF/MF Digits, Single/Dual-Frequency Tones, Faxes, and Modem traffic can be simulated over the established calls. The user can configure the DCOSS to generate various types of traffic over multiple timeslots/trunks.
High-density traffic generation is very common during telecom testing. Using the DCOSS, up to 16 digital T1/E1 trunks can be configured, simultaneously, for sending a variety of traffic, which in essence will simulate real world scenarios.
DCOSS Traffic Generation Main Features
Modem Traffic Generation (V.21, V.23, V.34, V.90, V.92) with up to 96 simultaneous calls. Send/Receive text files with verification of information (MQT). Display modem terminals for manual modem traffic generation.


Fax Generation using V.27, V.29, V.33, V.17 protocols with up to 480 simultaneous calls. Multiple page documents allowed with verification of information (FQT).


Voice Files (in 8-bit a-law & µ-law, 16-bit raw & WAV file formats) Generated/Recorded using PCM a-Law, PCM u-Law, WAV file types with up to 480 simultaneous calls. Send Files continuously. Recorded file verification using POLQA and PESQ algorithms. A-Law to u-Law auto conversion.


Send/Detect DTMF/MF Digits simultaneously over 480 established calls. Auto-send digits when call is established.


Send/Detect Single or Dual Frequency Tones simultaneously over 480 established calls. Auto-send tones when call is established. Send tones continuously.


Call Quality Criteria with user defined configuration. Pass/Fail calls based on results from MQT, FQT, VQT, detected digits, detected tones. Additional Statistics and Call Records associated with Call Quality Criteria.


Traffic Generation using Manual Calls or Automated Bulk Calling. Create Bulk Call configurations fast, incorporating great flexibility and testing power. Optional Bulk Call Scripting allows additional flexibility including conditional statements and loops.
DCOSS provides Quality Assessment tools for the internal/external generated traffic. Modem traffic (text files) and received Fax files are quality tested using methods to determine if the data received coincides with the original data sent. DTMF/MF Digits and Frequency Tones are quality tested using digit and tone detectors. Voice Files are quality tested using VQT algorithms. These algorithms include POLQA (ITU-T P.863) (ITU)PESQ (ITU P.862).


Screen Shot of Voice Quality Assessment Window
Automated Bulk Calling is an integral part of network testing utilizing traffic generation. DCOSS provides user-friendly generation tools for creating and executing Bulk Calling. Also, as part of the DCOSS Bulk Calling, Bulk Call Scripting is available with the added flexibility of conditional statements and loops.

Screen Shot of Modem Quality Test Window

Screen Shot of Fax Quality Test Window

Screen Shot of Bulk Calling

Screen Shot of Script Editor

Back to Digital Central Office Switch Simulator (DCOSS) Index Page