Simulcast Trunked Radio System for a Mass Transit & Public Safety System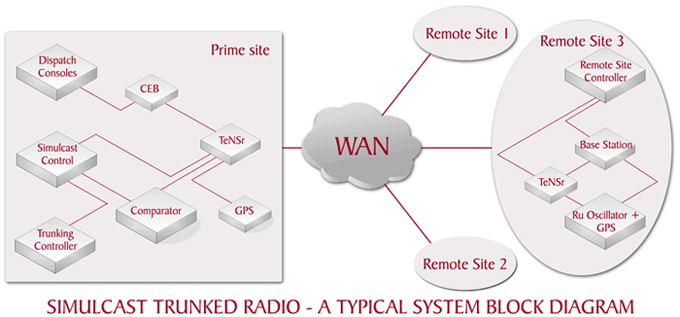 A Transit and Public Safety system requires a robust land mobile radio communications system for its day-to-day operations as well as routine system maintenance. The system must meet the growing concerns for the homeland security and provide best service to its patrons. These challenges are achievable by careful design and implementation of a modern simulcast trunked radio system which provides seamless system-wide radio coverage.
Customer's needs
Transit and Pubic Safety officials need seamless radio coverage within its service area regardless of underground in the tunnels and metro stations, or aboveground throughout the geographic area of its jurisdiction. The goal is to design a simulcast trunked radio system which has minimum RF coverage "nulls" and enable the radio users to communicate among different departments and have capabilities for interoperability within the agency as well as the first responders from other public safety agencies such as fire and police in a disaster situation.
GL's solution
GL develops design and technical specifications of both analog and digital simulcast trunked radio systems. A typical Motorola SmartNet II Simulcast Trunked Radio System is described hereunder. Based on our expertise GL also plays a key role by providing technical support and Project Management services during the construction phase of project to ensure proper installation, testing, optimization, acceptance and commissioning.
A typical Motorola SmartNet II Simulcast Trunked Radio System consists of the following:
Dispatch Consoles - Centracom Gold Elite Consoles
Prime Site and Remote Sites located throughout the geographic service area
Base Stations equipped w/ Tx and Rx modules one for each frequency channel
TeNSr Channel Banks to interface with WAN for radio site interconnect
GPS and Frequency Standard Rubidium Oscillator
Central Electronics Banks
Simulcast Controller, Trunking Controller, Remote Site Controllers
Antennas, Tx Combiners, Rx Multi-couplers, Tower Top Amplifiers
Results and benefits
Our customers use GL's design and technical specifications for procurement of vendor proposals for system deployment and successful project implementation. These radio systems are designed such that the role of dispatcher is kept to a minimum level as compared to the old legacy conventional systems; therefore meeting the radio communication challenges and day-to-day needs of Transit and Pubic Safety officials.
Trunking And Simulcast Advantage
Greatly Increased System Capacity – Controller Assigns Frequencies Dynamically with one of the channels dedicated as control channel
Permits the use of otherwise idle airtime on any channel via Talk-groups.
Using "simulcast" technology, multiple coordinated sites transmit simultaneously using the same frequency channels; thereby providing efficient use of spectrum.
Each transmitter reinforces the others, filling in areas where the others can not reach.
Achieve interoperability within the system between different Talk-groups.