Delivered Audio Quality (DAQ) and RSSI Testing for Dulles Corridor Extension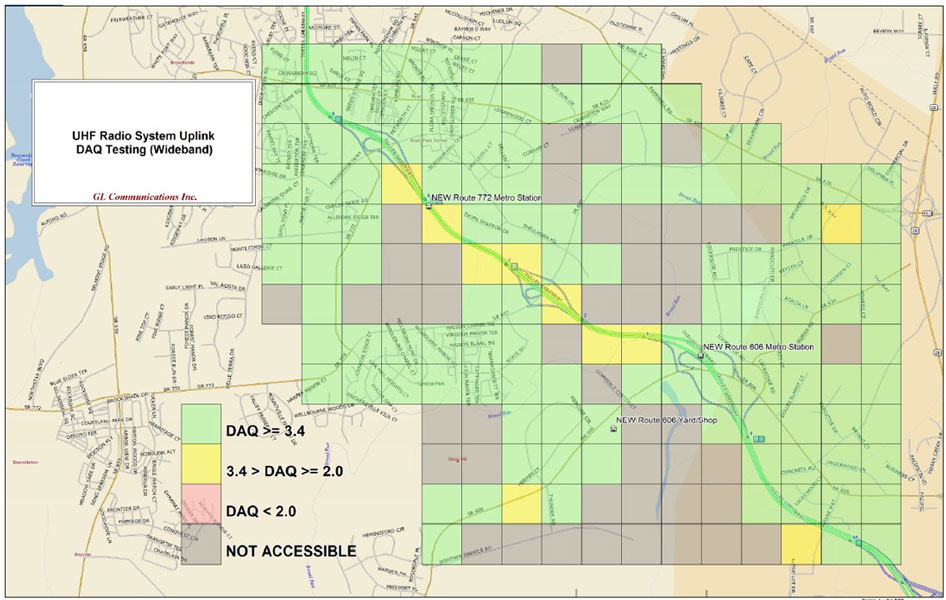 Client: Dulles Rail Consultants, VA, USA
Description:
The WMATA currently operates a Comprehensive Radio Communications System (CRCS), consisting of simulcast trunked analog and digital voice channels, as well as simulcast telemetry for vehicle tracking. As part of the Dulles Extension Phase 2 project, several new metro stations are planned and under construction in that area, including the last two stations at Route-606 and Route-772. The WMATA tasked GL to do a drive-test field study, to understand and document the existing CRCS radio coverage for the proposed Dulles Corridor extension area. As a result of the radio coverage assessment, GL recommended not to add a new radio tower in the vicinity of the last two stations.
---
Project Services and Objectives:
GL identified the grids and routes/streets which needed to be drive-tested to fully cover the area of interest. GL performed the measurements to record the Received Signal Strength Indicator (RSSI) for the downlink signal, as well as DAQ for uplink and downlink, by driving along the identified routes and taking measurements at frequent intervals. Drive testing included the measurements in each of the ¼ mile square planned test grids, when possible. Both types of measurements recorded the signal characteristics at each geographic point tested in a grid, along with a GPS tag to place the precise point (Latitude and Longitude), where each data measurement was taken, for use during post-process mapping.