Typical Centralized Train and Facilities Control System
Welcome to our May 2008 issue of GL's consulting newsletter. In this issue, we focus on a typical centralized train and facilities control system for an underground metro rail transit network. In general, such a system gathers data from wayside instrumentation for train control and provides supervisory control and data acquisition (SCADA) for managing the various subsystems at the train stations.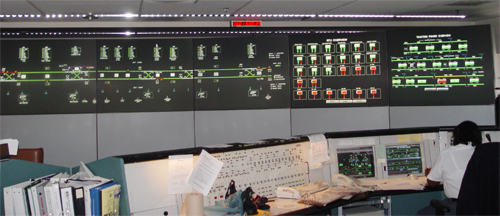 What is SCADA?
The term SCADA is used to describe control and management solutions in a variety of industries. SCADA systems collect data from various monitoring and control points. A central computer then processes the data, and controls the various subsystems. SCADA systems play a major role in modern industrial enterprises, for example, public utilities, manufacturing plants, oil and gas stations, and water and electric utilities.
Typical SCADA systems consist of:
Input and output devices
Remote terminal units
Programming logic controllers
Centralized computers
Communications systems and interfaces (RS-232, RS-485, Ethernet, etc)
User Interfaces
Standard and/or custom SCADA or HMI software
The Remote Terminal Unit (RTU) or the Programming Logic Controller (PLC) plays a key role in collecting and controlling the subsystems/parts. SCADA systems typically require little or no human intervention, though they have capabilities built-in for such possibilities for remote monitoring and control. They may utilize long or short distance communications, leased T1/wired/wireless networks, for connectivity depending upon the need and circuit availability.
One of the main difficulties that many organizations face is integration of several discrete SCADA systems that have been delivered over time. This is because of the SCADA industry's use of proprietary hardware, software and communications protocols. For example, in a typical metro rail system, centralized train control and traction power management systems may be similar. On the other hand, building management systems for intrusion, fire and security could be very different in that they may use different set of protocols and communication standards and practices. Also, Fire Management Systems must follow the rules established by the State's Fire Marshall and/or Authority Having Jurisdiction (AHA). They are developed by vendors in different industry groups and may have different types of specialized devices.
Technical challenges, complexities, and risks will determine the level of integration that can be attempted among various elements that monitor and control facilities. GL has assisted customers in evaluating their existing systems, upgrading them to the latest, and integrating the newer systems with the existing ones.
GL's Support to MTA
GL recently supported the Maryland Transit Administration (MTA) in its efforts to upgrade the existing CSCS installed in the mid 90s. The CSCS manages daily train traffic operations and a SCADA system. The MTA currently uses the CSCS with Train Traffic Management (TTM) in conjunction with an electrical power SCADA system's field interfaces spread throughout the Metro network. GL interacted very closely with the customer, and worked through complex technical issues to replace the existing management systems. We evaluated the existing system and developed specifications to modernize:
Central Supervisory Control System (CSCS)
Supervisory Control and Data Acquisition (SCADA)
Intrusion Detection System (IDS)
Station-wide LAN (SLAN)
WAN/LAN, SONET
Centralized Control and Display at Station Control Center (SCC) Booth
GL's solutions will result in more efficient operations at the MTA's Metro.

Back to Consulting Services Newsletters Page