IPNetSim™
IP Network / WAN Emulator-100 Mbps, 1 Gbps, 4 x 1 Gbps
Overview | Main Features | Applications | User Interface
Operation | Product Types | Specifications | FAQs | Other VoIP Products | Buyer's Guide
---
Overview

The IPNetSim™ is an "unbelievably" important and simple to use tool that simulates an entire IP Network in one box. Simulate delay, jitter, packet loss, packet errors, bandwidth restrictions, and more. Every "lab" should have one.

IPNetSim™ simulates IP networks. IPNetSim™ simulates all the conditions encountered in a real-time such as network latency, network delay variation (jitter), bandwidth, congestion, packet errors, bit errors and other network impairments. Impairments can be independently applied to either or both directions.
IPNetSim™ models are available at varying capacities from 100 Mbps copper or SFP, 1 Gbps 8 Gbps Copper or SFP, or up to 40 Gbps with Dual Rate 1 Gbps/10 Gbps SFP+ interfaces.
The IPNetSim™ with the 1Gbps (IPN400) configuration offers 8 Gigabit Ethernet port (8 RJ-45 copper, 8 SFP, or 4 of each), with an Max. Aggregate Throughput of 8, making it ideal for both multi-link configurations and multi-user labs. The compact 1U-sized appliance includes both copper and modular fiber/copper Gigabit Ethernet interfaces.
The new IPNetSim™ IPN600 series (IPN601 -1 Gbps Model / IPN610 - 10 Gbps Model ) offers 1 or 10 Gbps dual rate capability with four dual rate 1/10 Gbps SFP+ ports, supporting both 10 Gbps SFP+ and 1 Gbps SFP. With a capacity of up to 4 or 40 Gbps, the IPNetSim™ IPN600 series Network Emulator can simulate two separate 10 Gbps (or 4 Gbps) full-duplex links. For more information visit IPNetSim™ IPN600 series page.
GL also provides handheld variation of IPNetSim™, IPNetSim™ Handheld, which is a portable battery operated instrument that can simulate the real-time IP and Carrier Ethernet network dynamics by means of hardware controlled packet delay, loss, jitter, errors, bandwidth limitations, congestion, and duplication. IPNetSim™ Handheld offers to manage network behaviors of up to 1 Gbps rates with accuracy always better than 1ms. It is equipped with hardware based impairments generator, and dual GbE ports. For more information visit IPNetSim™ Handheld page.
The IPNetSim™ emulates a WAN (wide area network) link between two local networks. It can be used to test IP end point devices such as Gateways, IADs, IP phones, Soft phones, and so on for voice, fax, data, or multimedia transmission over IP.
The IPNetSim™ offers an efficient and economical way to emulate terrestrial, wireless, internet, satellite, or private network links to validate and troubleshoot networks and applications under a spectrum of real-world conditions. Through an intuitive, browser-based graphical interface, you can install the IPNetSim™ and begin testing within minutes.
Terrestrial:

Emulate the bandwidth, delay, and loss characteristics of T1, E1, T3, E3, OC-3, ATM, xDSL, Frame Relay, and dial-up modems. Use IPNetSim™ to determine how much bandwidth you need to keep your applications running smoothly, and the most cost-efficient WAN technology to meet your performance requirements.
Wireless:

Mobile wireless networks offer great convenience for professionals on the road and fixed wireless can be a boon for disperses communities, but performance may not match terrestrial options. Use IPNetSim™ to find out if wireless solutions fit your needs.
Internet:

Use IPNetSim™ to find out beforehand conditions of e-commerce connections when the Internet is busy or the quality of IP calls and plan for appropriate counter measures.
Satellite:

With latency in excess of 500 ms and bit error rates as high as 1x10-6, satellite networks can create havoc for protocols and applications. The IPNetSim™ is especially designed to accommodate the long delays and high error rates of satellite networks, and includes the ability to simulate bit errors in addition to packet loss.
---
Main Features
Easy to Use-no software, plug and play-No software required to install. Just plug in the Ethernet cables and specify the link conditions for emulation. The Ajax-based GUI combines the responsiveness of an application with the convenience of a standard Web browser interface.


Remote access via Ethernet management port


Bandwidths up to 1 Gbps - With IPN400, emulate WAN bandwidths up to 1 Gbps in each direction per link to an aggregate of 8 Gbps at full line rate.


Multiple Links - With the ability to emulate 8 separate, independent links, the IPN400 is a compact and cost-effective alternative to multiple WAN emulation appliances. Independent pairs of Ethernet interfaces for each link make configuration of multiple links as easy as a single link.
Delay from 1 ms to 10 seconds - perfect for satellite delay modeling-Emulate latency in constant, normal or uniform distribution in either direction starting from 1ms up to 10secs.


Precise Error Insertion - Emulate bit error rates as low as 1x10-14. Specified loss can be packet loss rate, bit error rate, or both.


Congestion Emulation - Determine the effect of congestion on bandwidth and jitter-sensitive applications by specifying the background link utilization and its burstiness.


Jumbo Frames - Test with Ethernet frames of up to 9 KB.

Unique Scheduler for modeling different error scenarios - IPNetSim™ Scheduler allows any combination of emulation parameters to vary over time, making link outages, variable bandwidths links, route flapping, satellite rain fade, and wireless interference with high-flexibility. IPNetSim™ can automatically adjust to the link conditions between specified end states.


Traffic Monitor for visibility into traffic flow through the box - Provides a visual display of the current traffic conditions, including throughput graphs, link statistics. Up to 24 hours of statistics can be downloaded for analysis.

Unsurpassed precision - Simulates link bandwidth with microseconds resolution and performs bit error rate probability calculations with 256-bit values to ensure correct, precise, and accurate error distribution


Bridging or Routing Modes - IPNetSim™ can be configured as a bridge or router for easy integration with any test configuration.
Command Line Interface for Automated testing - Series of tests can be run using IPNetSim™ scheduler or the command line interface, which makes IPNetSim™ ideal for automated product testing.


Match real link behaviour - adjustable framing overhead allows accurate emulation of any layer. Queuing delay can be modeled with queues set in packets, bytes, or milliseconds to match actual WAN hardware


Advanced emulation parameter - Verify that applications and networking equipment properly handle anomalous packet reordering and duplication conditions without inducing stability or performance problems. Adjust the framing overhead and maximum queue depth to match real link behaviour.


Copper and Fiber Gigabit Ethernet interfaces - Connect using either RJ-45 copper or modular fiber/SFP Gigabit Ethernet for convenient installation on copper or fiber-based networks.
---
Applications
Network Validations:

You have to choose between terrestrial wireless, satellite, and other WAN technologies to connect between offices across the globe. The cost trade-offs are easy to quantify, however, the parameters such as delay, jitter, and loss affect performance of critical applications. Estimating the bandwidth required to keep applications running can be known by emulating the links in the lab with different conditions and demonstrating performance to all decision makers before the choice is made.

Equipment Testing:

Use IPNetSim™ to find out if addition of equipments such as accelerator, compression device, traffic shaper, cache, or application proxy can improve the performance of the network before you purchase.

Troubleshooting:

Use IPNetSim™ in the lab to pinpoint the cause in the application failure and validate solutions without disrupting the production network. With record & playback feature of IPNetSim™, one can capture the conditions & reproduce the delay / loss characteristics of the live link in a repeatable test environment.

Application Testing/ QA Testing:

Use IPNetSim™ to test if the networking equipment, software, and client/server based applications works under any condition on a local network as well as from a remote place located across the town or on the other side of the world before your users complain. With the ability to emulate 4 independent links, the IPN400 allows 8 individual developers to use the device simultaneously, saving time & money.

Website Performance:

See your website as your users experience and make sure its responsive. Verify that your e-commerce system does not leave your customers hanging when their link goes slow

VoIP:

Voice over IP sounds perfect in demonstrations on the LAN, but quality diminishes with latency, jitter and packet loss. Test VoIP network using IPNetSim™ under real-world conditions to verify if it meets the quality requirements before you deploy.

Video and IPTV:

Use the IPNetSim™ to ensure a clear picture by testing video on IP networks by emulating the loss and congestion characteristics.

Product Demonstrations:

Use IPNetSim™ to demonstrate your products on customer sites and trade show by simulating the actual network conditions. Avoid the hassles of installing on a production network and eliminate surprises with a pre-configured test. The IPN400 allows you to run 8 tests in parallel to demonstrate performance of WAN accelerators, load balancers, VPNs, and other networking equipment

Product Benchmarking:

The IPN400 allows you to test 8 separate products in parallel through independent links, providing a direct comparison between competing solutions for video, voice, and other networking applications.
---
User Interface
The IPNetSim™ is configured using a simple browser-based interface. Screen shots for the different configuration tabs are shown below:
Link Emulation
This screen contains all of the link parameters that can be emulated with the IPNetSim™. Basic emulation parameters of Bandwidth, Delay, and Loss are always visible.

Screen Shot of Link Emulation
Bridge / Route
Settings in this screen help the end user to use the IPNetSim™ function as a bridge or router.

Monitor
The Monitor screen displays real-time transmission statistics and throughput graphs of the traffic over the emulated link. For each direction, there is a table of statistics, graph of the transmission rate, and a table of average transmission rates. The currently running emulation parameters are also displayed.

Screen Shot of Monitor Statistics
Scheduler
Scheduler is used to configure dynamically changing emulation parameters or automate a series of separate tests. This can be configured with up to ten separate sets of link conditions to run in series. The IPNetSim™ automatically transitions the link conditions between each stage using up to 1000 intermediate steps.

Screen Shot of Scheduler
IPNetSim™ Player
IPNetSim™ Player work in conjunction with Recorder utility to record and report the delay and loss characteristics of a wide-area network link or network path over time. The IPNetSim™ Player reads the recorded file and replays the captured conditions to reproduce the delay and loss characteristics of the live link in a repeatable test environment.

Screen Shot of IPNetSim™ Player
Recorder
The Recorder is a Windows-based utility that captures and records the delay and loss characteristics of a wide-area network link or network path over time. The Recorder is designed for use in conjunction with the player functionality of the IPNetSim™ WAN emulator. The Recorder can probe the link up to ten times per second and record up to 100,000 data points.

Screen Shot of Recorder
---
Operation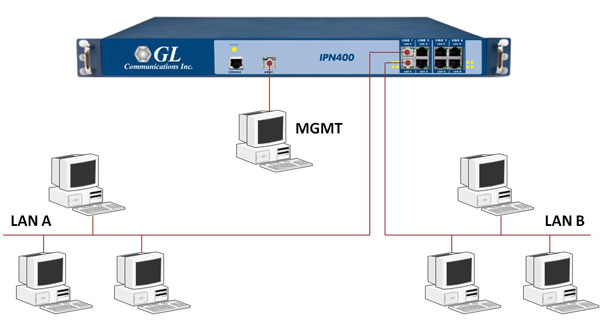 The IPNetSim™ is managed through a browser-based Internet Explorer version 6 or later, or Mozilla Firefox GUI over an Ethernet connection to a dedicated management interface.
Initial configuration of the management interface requires either:
PC running a supported web browser that can be configured and placed on the 10.0.0.0/255.0.0.0 network.


PC with an RS-232 serial port running HyperTerminal or other terminal emulation software.
IPNetSim™ can be installed between two LAN segments as shown in the diagram. Depending on configuration, the IPNetSim™ acts as either a transparent learning bridge or a router between the Ethernet segments connected to the LAN A and LAN B ports of the unit. Frames received on one port are subjected to the emulated WAN conditions before being forwarded to the other port.
Emulation conditions are configured on the IPNetSim™ GUI and operate independently in each direction.
When functioning as a bridge, the IPNetSim™ is not limited to emulating IP networks, but can emulate any type of network so long as the traffic is encapsulated in Ethernet. In addition to IP, the IPNetSim™ can be used with IPv6, IPX, AppleTalk, SCPS, and proprietary network and transport layer protocols.
---
Product Types
IPNetSim™ - 100 Mbps of through bandwidth (Item No IPN010)
1 link rated to 100 Mbps full duplex
1 million packets per second
2 x Gigabit Ethernet emulation (Copper or SFP)

IPNetSim™ 100 Mbps SFP Interface (IPN010)

IPNetSim™ 100 Mbps RJ45 Interface (IPN010)
IPNetSim™ - 1 Gbps of through bandwidth (Item No IPN100)
1 link rated for 1 Gbps
1 million packets per second
2 x Gigabit Ethernet (Copper or SFP)
Different front panel configuration and enhanced capability
IPNetSim™ 1 Gbps Through Band Width (IPN100)
IPNetSim™ - 1 Gbps w/ 8 links through bandwidth (Item No IPN400)
Up to 8 separate links of 1 Gbps
12 million packets per second
8 x 10/100/1000 baseT Gigabit Ethernet (or) 8 x SFP Gigabit Ethernet
Capable of emulating up to 8 separate links with an aggregate throughput of 8 Gbps.
Plus all the above features of 1 Gbps (Item No IPN100)

IPNetSim™ 1Gbps Four Links Through Bandwidth (IPN400)
IPNetSim™ Models - Comparison Table
Features
IPNetSim™
IPNetSim™ 6XX (NEW)
Emulated WAN links (per port pair)
1
15
Port pairs per unit
IPN010: 1
IPN100: 1
IPN400: 4
IPN601 1G: 2
IPN610 10G: 2
Interface Type

IPN010, IPN100:
2 x 10/100/1000 baseT Gigabit Ethernet (Copper or SFP)

IPN400:
8 x 10/100/1000 baseT Gigabit Ethernet or 8 x SFP Gigabit Ethernet

4 x SFP+
(1/10 Gbps auto-negotiate)

Max.Packet Rate
1,000,000 to 12,000,000 packets
per seconds
17,000,000 packets per seconds
Packet filtering
N/A
Source and destination IP address
Source and Dest. IPv6 address
VLAN ID and PCP value
TCP/UDP port numbers
MAC address
MPLS label
Any arbitrary packet field
Bandwidth emulation
300 bps to 1 Gbps
300 bps to 10 Gbps
Latency & Jitter
0 ms-10,000 ms in 0.1 ms increments
Constant, uniform, normal distributions
Packet Loss Models
Random, BER
Random, Periodic, Burst, BER
Packet Corruption
Packet Reordering
Packet Duplication
Queue Management
Tail drop
Tail drop, RED
Random early detection (RED), also known as random early discard or random early drop
ToS Prioritization
FIFO, Strict Priority, Round Robin
Access link rate control
Out-bound
In-bound and out-bound
Live condition capture and replay
Background utilization
MTU and Fragmentation
Jumbo frames
Statistics download
24 hours
24 hours
Throughput graphs
Previous 10 minutes
24 hours reviewable with pan and zoom controls
Self-monitoring indicators and warnings
Full CLI
SSL and SSH secure access
Multiple users with configuration locking
---
Specifications
IPN010, IPN0100
IPN400
Capacity
Product Types
IPNetSim™ - 100 Mbps of through bandwidth (Item No IPN010)
IPNetSim™ - 1 Gbps of through bandwidth (Item No IPN100)
IPNetSim™ - 1 Gbps w/ 4 links through bandwidth (Item No)
Max. Emulation Rate

up to 100 Mbps full duplex ( IPN010)
Up to 1 Gbps full duplex (IPN100)

Up to 1 Gbps full duplex per link
Max. Packet Rate
From 1 million packets per second
12 million packets per second
Emulated Links
1 link
4 links
Primary Emulation Settings
Bandwidth
300 bps - Max. rate in 1 bps increments
Delay
0 ms-10 sec. in 0.1 ms increments; constant, uniform, normal distributions
Packet Loss Rate
0-100% in increments of 0.0001%
Background Traffic
0-100% in increments of 0.1%
Bit Error Rate
Rates to 1x10-14
Additional Emulation Parameters
Bit error rate, packet reordering, packet duplication, queue depth, framing overhead.
IPNetSim™ scheduler for emulation of dynamic WAN conditions
Warranty and Support
Hardware warranty
1 year
Support and Maintenance
1 year, including all firmware upgrades
Interfaces
Emulation
2 x Gigabit Ethernet (Copper or SFP)
8 Total:
8 x 10/100/1000 baseT Gigabit Ethernet or
8 x SFP Gigabit Ethernet
Management
1 x 10/100/1000 baseT Copper Gigabit Ethernet
1x RS-232c serial console
Environmental and Physical Specifications
AC Input Voltage
Auto ranging 100 VAC to 240 VAC
AC Input Frequency
50 to 60 Hz
47 to 63 Hz
AC Input Current (Max)

4.0 A Max.
0.4 A Typical

1.1 A Max
Maximum Power Draw

45 Watts

130 Watts
Dimensions

17" W x 10.9" D x 1.75" H (1 RU)



431 mm W x 277 mm D x 43.5 mm H (1 RU)

17" W x 18 " D x 1.75" H (1 RU)

431 mm W x 277 mm D x 43.5 mm H (1 RU)
Weight

Product

Shipping


8.5 lbs. (3.9 kg)

13 lbs. (6 kg)


16 lbs. (8 kg)

21 lbs. (10 kg)

Temperature

Operating : 32° to 104°F (0° to 40°C)

Storage: -4° to 158°F (-20° to 70°C)

Humidity

10% to 90% (non-condensing)

10% to 90% (non-condensing)
Certifications
FCC Class A, CE, RoHS
---
FAQs
Who uses the IPNetSim™?

The IPNetSim™ is designed for anyone who needs an accurate, easy-to-use, cost-effective way to simulate WAN conditions, including:

Corporate IT Managers
Application and equipment developers
Military network developers
Sales and SE professionals
Networking equipment resellers and system integrators
Q/A teams
Test labs

Can the IPNetSim™ emulate long delays?

Yes. The IPNetSim™ was designed with satellite and other long latency conditions in mind and can handle delays of up to 10 seconds in each direction.

Can the IPNetSim™ emulate individual end nodes?

No. The IPNetSim™ emulates the WAN link itself. It is not a traffic generator.

How does the IPNetSim™ differs from competing WAN emulation solutions?

Until now, there were only two alternatives: high-end WAN emulators and freeware. High-end WAN emulators offer a wide array of features, but their prices puts them out of range of most users while their complexity make them difficult to use. Although freeware has no upfront cost, the time wasted in installation and configuration of the source code makes them unproductive, and the resulting systems are constrained in precision and performance.

The IPNetSim™ is the culmination of a mission to offer the precision and performance of a high-end WAN emulator without the cost, designed to be far easier to use than anything else available.
---
Other VoIP Products
VoIP Network Testing w/ GL's Media Gateway
The DCOSS MG (Media Gateway) system supports dual redundant Ethernet trunks for traffic and signaling testing of VoIP and IP networks. The DCOSS / MG combination provides user friendly bulk call generation and reception for various voiceband traffic types including voice, fax, and modem. It can be connected to any IP Phone, softphone, VoIP PBX, or VoIP Network / Cloud. For more information click here
PacketGen™ - VoIP Testing and Simulation Tool
GL's PacketGen™ application allows users to generate/accept thousands of VoIP calls with full media stream manipulation. It is designed to function as a bulk call generator for stress testing and precise analysis of the VoIP network equipment.
Message Automation & Protocol Simulation (MAPS™) - SIP & Megaco Tester
Message Automation & Protocol Simulation (MAPS™) application is designed for SIP and Megaco protocol conformance testing.
MAPS-Megaco Tester - Provides MEGACO test library capable of testing Media Gateways (MG) and Media Gateway Controllers (MGC). The test library includes test functions to generate MEGACO messages, edit messages, simulates a variety of call flows, and control scenario.
The MAPS™ MEGACO Conformance Suite tool is designed with 250+ test cases, as per specification of ETSI TS 102 374-2 (2004-11) standard. The test suite includes in-built scripts to process MEGACO valid and in-valid behaviors.
MAPS-SIP Tester - supports testing SIP proxy servers, Redirect servers, Registrars, Registrants, and user agents such as SIP phones. Test cases include general messaging and call flow scenarios for multimedia call session setup and control over IP network. Logging and pass/fail results are also reported.
The MAPS™ SIP Conformance Suite tool is designed with 300+ test cases, as per SIP specification of ETSI TS 102-027-2 v4.1.1 (2006-07)) standard. Test cases verify conformance of actions such as registration, call control, capability queries and messaging for registrars, proxies and redirect servers.
PacketScan™ - VoIP Testing Tool
GL's PacketScan™ a real-time VoIP analyzer that captures live IP traffic, and segregates them into SIP/H323 calls and collects statistics about the calls. Hundreds of calls can be monitored in real-time including detailed analysis of selected voice band streams. Users can perform a host of activities on the captured calls, allowing you to get an exact picture of QOS (quality of the service) and the technical adherence (adherence to the protocols specified by the standardizing authority) of the system under test.
SIGTRAN Analyzer
GL's SIGTRAN protocol decode permits real-time analysis, call trace, capture, and filter of SS7and ISDN signaling messages over IP protocol. This software is a companion to GL's award winning SS7 and ISDN protocol analyzers.
RTP ToolBox™ - RTP Testing and Simulation Tool
GL's RTP ToolBox™ testing and simulation tool is designed not only to monitor RTP and RTCP packets, but also to allow users to manually create and terminate RTP sessions, independent of call-signaling protocols such as SIP, H323, MEGACO, or MGCP. This tool can be used for testing and developing enhanced voice features (VAD, echo cancellation, codec, digit regeneration, digit generation, fax over IP, jitter implementation etc) within end-user equipment (IP phones, ATA, MTA etc), testing media gateway telephony interfaces, end-to-end network testing before and during VoIP deployment, automated testing of digital signal processing embedded into network elements.
---
Buyer's Guide:
* Specifications are subject to change without notice.